PALM SPRINGS, CA — Josh Pond and his 6-foot-6-inch frame arrived at Palm Springs Stadium to join the POWER two weeks ago, already a month into the summer season. Barely clearing the doorway, Pond looked more like an offensive lineman than a closer. That's the position he held this spring, setting a Cal State San Bernardino Coyote record and tying a California Collegiate Athletic Association record with 16 saves.
"Have you heard about our closer?" Pond was asked within minutes of arriving at Palm Springs Stadium, while collecting his pants, jersey, and hat.
"Yeah. Heard he's throwing pretty well. He is coming to play at CSUSB. I think the plan is for him set up for me next season actually. Don't know now though; we're excited to have him on the team," Pond responded with a smile.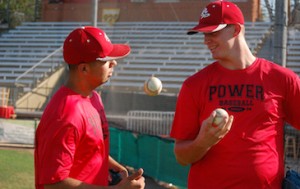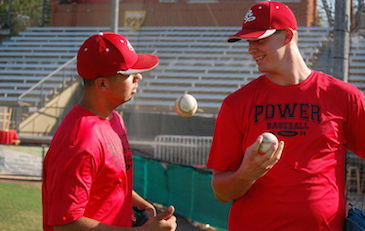 Pond was hardly trying to stir up debate over the closer position in Palm Springs. Largely unaware of the extent of POWER closer Tony Guerra's success for Palm Springs this season, Pond simply knew that his coaching staff had picked up a hard throwing right-hander with a wicked two-seam fastball that jams right-handed hitters.
To date, Guerra has yielded only nine baserunners, struck out 26 batters, tallied eight saves, has walked only one batter, and has yet to allow a run in his 19 innings of work. He didn't walk that first batter until outing number 13, the number he wears in on the back of his POWER uniform.
If Guerra's chokehold on the 9th inning wasn't a strange enough situation for Pond, a guy so accustomed to the closer's role, Guerra is on his way to Pond's CSUSB to play next spring for the Coyotes after spending last season with Western Nevada College. To top it all off, the POWER management put Pond in the same room with Guerra at the team hotel.
Supposedly, there is little competition between the two, at least for the time being. In addition to rooming together in the team hotel, they have worked out together at the stadium and the gym. Pond is helping Guerra get ready for next season, telling him about the Cal State San Bernardino campus and environment and is also helping to get Guerra acquainted with the usual team workout. The two even celebrated July 4th together, as Guerra invited Pond to break bread with him at his family barbecue.
Pond's main focus is simply to get back into playing shape after missing a month of live game action during the negotiations with the Padres. As Pond tries to get back in to playing shape after not playing in a game situation since May, Guerra pitches every night with a chip on his shoulder—with something to prove. Both righties are doing what they need to do, and it's working.  Pond has been nearly as dominant, striking 13 in 7.1 innings, allowing just two base hits, walking only four, and picking up a save of his own.
On the surface, the two couldn't be more different. Guerra stands on the short side of 5'11" and is calm, quiet, and trimmed down from a bulkier, more muscular frame that he used to sport.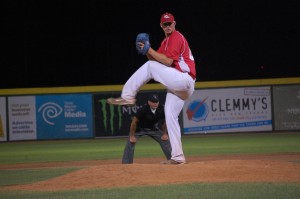 Pond is truly enormous, wearing size 17 shoes and is all or more of the 6'6", 240 lbs that he is listed at on the POWER roster.  He's from the sandy beaches of San Diego while Guerra comes from a working class port town of San Pedro in the district of Los Angeles. While Pond came in cracking jokes and smiling immediately, the players know Guerra as a serious guy who no one wants to mess with. Pond is the jokster who gets serious when necessary, and Guerra is the "tough guy" who, in reality, has a heart of gold and wouldn't go out of his way to do wrong.
Yet, the two are, oddly enough, well paired. Despite their success, neither carries much of an ego at all, as both closers have a tattered baseball past.
Pond went 4-6 with an ERA over 14.00 his freshman year for the Scottsdale Community College Fighting Artichokes. He originally signed last fall to play for the POWER this summer, he was drafted by his hometown San Diego Padres. The POWER expected him to sign with the club, but when negotiations fell through, the hulking right-hander reached back out to POWER owner Andrew Starke.
It's not that Pond was an afterthought: "we have a policy of not turning down All-American pitchers," Starke quipped about bringing in Pond, a 2011 DII All American. Then again, it's not as if the POWER were looking for a guy to lock down the ninth. Pond arrived as a reinforcement, "another arm," "a hard thrower." And not as a closer.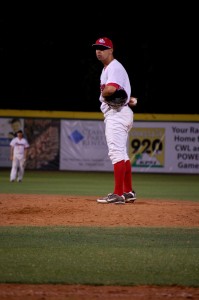 Guerra has never sniffed stardom, and it's hard to say that anyone in Palm Springs came close to expecting what the San Pedro native has produced. He hasn't pitched double-digit innings in a single season, summer, spring, or otherwise, since 2005, his sophomore year of high school. He tore his ulnar collateral ligament (UCL) in throwing elbow—twice. It first tore in 2005, while Guerra was still in high school, and after a long layoff and rehab, it popped again in 2008, his redshirt year at Western Nevada College. Guerra had Tommy John surgery in the spring of 2009 and is finally fully healthy. Guerra says he hasn't felt this dominant since his little league days.
When they both arrive in San Bernardino in the fall, no one really knows what will happen.  "I expect there to be a battle for the [closer's] spot," Pond said. Pond certainly has to have the edge after his spectacular 16 save season in which he put up a 1.54 ERA and struck out 37 batters in 23.1 innings. Guerra wants the job, but knows that the problem the Coyotes face is a great problem to have: "Here [in Palm Springs], it's my job; I go out and do my job. I came out here to prove myself, and I have. As far as next season with Pond—it's always good to have two closers, and hopefully with me and Pond we can make the World Series with Cal State San Bernardino."
Pond echoed Tony's sentiments: "hopefully Tony can help the team next year. No matter what, I just want to help my team. Whatever my role, hopefully Tony and I and can help the team get to North Carolina for the World Series."
Primarily, Pond has setup for Guerra or pitched on days when the POWER closer needs rest. For now, the competition is only in the minds of the onlookers, gazing at the two flame-throwing righthanders who both see themselves as closers. When Guerra is warming up in the pen, Pond is right there beside him, watching when helping if he can–and visa versa. Both have thrown the final frame in POWER victories and both will be crucial pieces to the POWER's quest for their third SCCBL crown.
POWER Owner Andrew Starke likens the two back-end bullpen arms to the lefty/righty combo of Chris Sigfried and Bryan Shaw from the 2006 Pacific Southwest League Tournament Championship POWER team. Sigfried went in the 9th round of the MLB draft to the Cubs, and the Diamondbacks made Shaw, who threw 98 mph here in Palm Springs in'06, a second round selection before calling him up this June for his MLB debut. Even those two, who both threw over 90 mph, allowed six runs here in Palm Springs. Pond and Guerra have combined for nearly three full games of shutout ball. The '06 duo struck out 11 batters per 9 innings and walked 18. This year's combo have struck out over 13 opponents per 9 innings and issued only five free passes.
With Pond and Guerra throwing late in games at Palm Springs, the opposition is unlikely to do much. Whether it is in the four games this week, or against the So Cal Athletics when the playoffs begin on July 24th at Palm Springs Stadium, the POWER closers will slam the door on whoever steps in against them, and whoever it is, the other closer will be the first one off the bench to congratulate him.