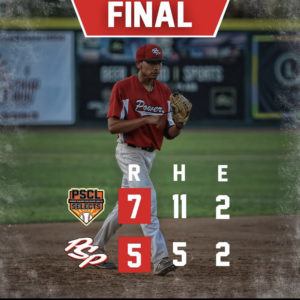 Palm Springs – The PSCL Select Team snapped a Palm Springs Power ten-game win streak with a 7-5 final on Tuesday. It was the Power's second loss of the season.
Palm Springs did take the early advantage in the first inning. After an error brought home the first run, JR Freethy plated another with a single to make it 2-0.
The PSCL Select Team, combined of first, second and third team PSCL selections, chipped away with a run in the second and the tying run in the fourth. The Select team scored three in the fifth inning keyed by a Tyler Smith two-run single. Smith drove in three to lead the way for the PSCL.
The Power mustered just one hit after the fourth, and just one run after the fifth as the Select Team hung on for the final. They are the third PSCL comprised team to take on the Power this summer, but the only one to come away victorious.
The Power Summer Collegiate League will play their championship game on Wednesday night. It's a Kid's Day Wednesday, meaning kids 12 and under get in for only $1. Gates open at 6:00 PM for a 7:05 PM contest. Tickets are available at the Palm Springs Stadium box office.