Palm Springs, CA – The Palm Springs POWER won their first game road game of the year on Thursday.  It was the first game of a double-header starting at 11am at Vanguard University.  The win improved the POWER to 24-2 and 15-1 in conference play.  The POWER win was another close game with the Pioneers with the final score being 4-3.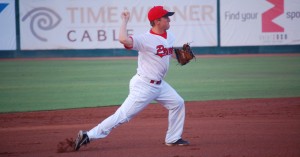 POWER starter James Crockett went six innings and got the no-decision.   Crockett allowed only five hits and one earned run while striking out six for the POWER.  Thomas Taylor came into relief and finished the game for the POWER.  Taylor picked up the win by going three innings, giving up two hits and one run.  The POWER reliever did strike out three.
The first two runs for the POWER came in the top of the second inning.  After a Brandon Macias single and hit by pitch for Zach Haley, Chett Zeise delivered a two-out two RBI single.  John Haberman drove in the third POWER run in the sixth inning.  In the top of the ninth Brandon Macias doubled and later stole third.  Macias scored the winning run after an error by the Pioneers' pitcher when Chett Zeise hit a chopper that went through the Pioneers' pitcher's legs. Macias went two for four in the first game.
The POWER return to action Friday night against the San Diego Force at Palm Springs Stadium where it will be Wild Wild West Night.  First-pitch is scheduled for 7:05 PM and the gates open up at 6:00 PM.