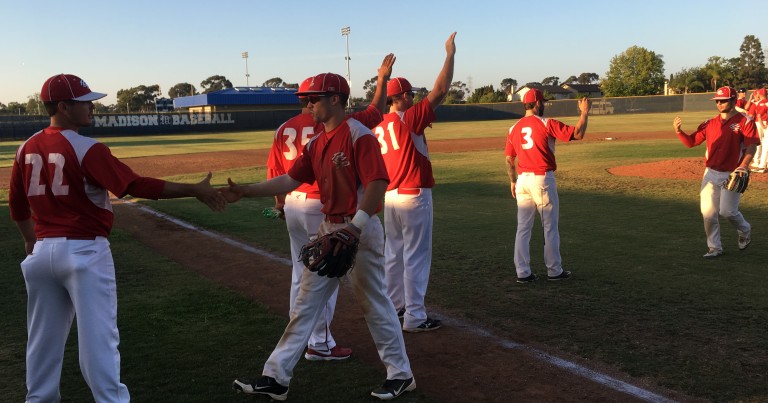 By Mark Cochran
SAN DIEGO, CA – The Palm Springs Power defeated the San Diego Force 8-1 in the first game of the SCCBL Championship Series Friday afternoon from James Madison High School.
This game was a pitcher's duel between starters Jacob Rebar (University of Utah) of the Power and Brad Moreno for the Force. Both pitchers were scoreless through the first four innings. In the fifth the Power finally got to Moreno and Rebar would go on to win the duel.
Rebar went eight and one-third innings allowing only one run and striking out eight. He pounded the strike zone all afternoon and the Force stood no chance.
The Power lineup started slowly against Moreno, but once they started scoring they didn't look back. They scored one run in the fifth, one in the seventh, the broke it open in the eighth inning.
Justin Wylie (San Diego State) stepped up to the plate in the top of the eighth with the bases loaded and smoked a grand slam home run to extend the lead to 6-0. They would add two more runs in the ninth.
John Maudlin (University of New Orleans) had a big night going 3-4 with an RBI and a run scored.
Cody Ducote (University of New Orleans) extended his 31-game, season-long hitting streak to 32 games at the last moment. He was 0-4 going into his final at bat in the ninth inning but found a pitch to hit and smoked an RBI single and has now hit safely in all 32 games he's played this season.
The Power return to action Saturday night for the second game of this best-of-three SCCBL Championship Series against the Force. If the Power wins, they will be 2017 SCCBL Champions. Game time is set for 7:05 pm at Palm Springs Stadium.