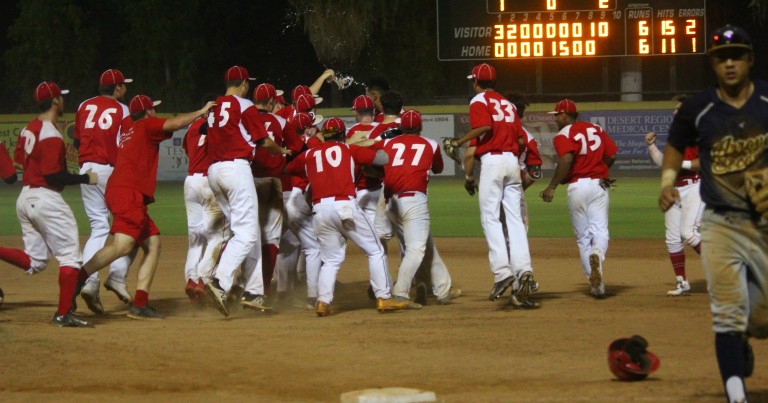 By Steve Sitter
PALM SPRINGS, Calif. – The Palm Springs POWER saw their second walk-off of the year in a thrilling 7-6 victory over the Arroyo Seco Sentinels, eliminating the Sentinels and earning a spot in the 2017 SCCBL Championship Series.
The Sentinels took a 5-0 lead early in the victory, knocking starter Steven Baker (Chico State) out of the game in the second inning.  The POWER only managed to put together three hits and one run through the first five innings, but their bats came alive in the sixth.
In a 5-1 game, the POWER sent up nine batters and racked up five runs on six singles to take a 6-5 lead.  They held the lead into the eighth, when a leadoff solo home run off the bat of Sentinel left fielder Joe Morin tied the game at 6-6.
After the first two batters in the bottom of the ninth were retired, the POWER mounted a stunning string of offense.  Cody Ducote (University of New Orleans), who was 0-4 on the night, extended his hitting streak to 31 straight games with a two out single.  He was pinch-ran for by Billy Johnson (York College), who was advanced to second on a hit-by-pitch by Taylor Grace (Michigan State).  Hunter Stratton (San Diego State) lined a single to right-center field, scoring Johnson and securing the victory for the POWER.
When asked about his clutch hit, Ducote said, "I didn't feel much pressure.  I came up with two outs in the ninth, [and I] was really just trying to get an extra base hit.  I got out in front a little bit, but got on and that was the game-plan.  If I got on, Billy would get in the game with some wheels, and it worked out."
Skyler Hunter (Purdue) went 3-5 with an RBI and a run scored.  Taylor Meilleur (St. Mary's) went 1-3 with an RBI and two runs scored.  Bryan Menendez, who pitched the ninth inning for the POWER, earns the win.
The POWER will face the San Diego Force in a repeat of the 2016 Championship Series.  Game one is on Friday at Madison High School in San Diego, and games two and three (if necessary) will be at Palm Springs Stadium.
Photo Credit: Clinton Cole