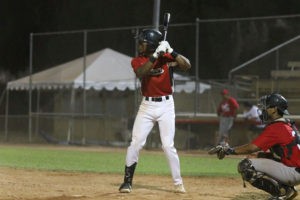 Palm Springs – The Palm Springs Power couldn't stop hitting on Saturday night, taking down the Inland Valley Pirates 16-4. Bryan Leef led the charge as Palm Springs won their second consecutive game.
After Inland Valley's Spencer Rasmussen put the Pirates on the board with a two-run homer in the first, Palm Springs responded quickly in their half of the inning. Leef tripled to right to bring home a pair of runs. He scored later in the inning on a wild pitch to give the Power a 3-2 lead.
After a Nick Beardsley shutdown frame in the second, the Palm Springs offense exploded. Leef once again brought home two with a double. Justin Mazzone then launched a two-run home run to right as a part of a six-run inning. The Power leapt out to a 9-2 lead after two.
Leef went for the biggest night of his season with two triples, two doubles, three runs scored and eight RBI as the Power routed the Pirates by a 16-4 final. Sixteen runs is a season high through their first nine games.
The Power are off until Tuesday when the San Diego Force come into town for a two-game series. It's $2 Draft Tuesday at the ballpark. Gates open at 6:00 PM, first pitch is at 7:05 PM. Tickets are available at the Palm Springs Stadium box office.