Palm Springs, CA – The Palm Springs POWER made things interesting but were able to pull off another close victory on Friday night, defeating the San Diego Force by a final score of 4-3.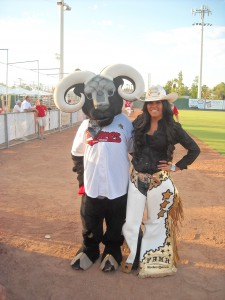 The POWER were able to get on the scoreboard first when they put up a three-spot in the bottom of the fourth.  Marcus Romero ripped a triple to the left field wall that scored Brett Christopher and Corey Black.  Romero was able to score from third after John Haberman stepped up to the plate and ripped a single to centerfield.
The Force answered with a run of their own in the top of the sixth.  In the bottom half of the sixth, Brett Christopher came to the plate and ripped an inside-the-park home run to right field.  Christopher flew around the base path from the second the ball was hit and was surprised to see how close the plate at home was.
 "When I saw Rolando (POWER third-base coach Rolando Garza) wave me home I thought the rightfielder had been kicking it around a little bit," said Christopher.
That was not the case, as Christopher's pure speed was able to get him around the bases to complete the incredible baseball accomplishment of hitting an inside-the-park home run.
The POWER once again got a very strong performance from their pitching staff.  Aaron Brooks started the game but only went the two innings he was allotted after being scheduled to pitch in Game 1 of the playoffs on July 20.  Brooks threw two innings of shutout ball and had three strikeouts.  Dustin Ispas relieved Brooks to start off the third inning and only surrendered one run through three-plus innings of work grabbing the win.  Bryan Dalton came in during the sixth inning to relieve Ispas and completed three innings of shutout ball.  The Force were able to put up two runs in the top of the ninth but POWER closer Gabe Aguilar was able to strike out San Diego designated hitter Ryan Williams to end the game and get his fourth save of the season.
The POWER return to action when they take on the L.A. Thrashers Saturday night at Palm Springs Stadium.  First-pitch is scheduled for 7:05 PM and the gates open up at 6:00 PM.  It will be Living Desert night at the ballpark, with the first 150 fans receiving free admission tickets to the Living Desert.