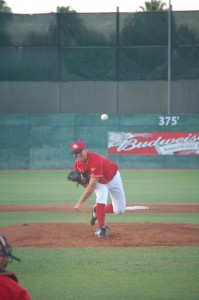 In a combined effort to take the series victory from the visiting San Francisco Seals, three POWER pitchers collectively completed the first ever no-hitter for the POWER in a 6-1 victory. Dustin Ispas, Brandon Love and Kesley Kondo all played vital roles in de-clubbing the Seals on the final game of the series Sunday night.
 Ispas went four strong innings to start the game, with three strikeouts and zero earned runs in 16 batters faced.
"I felt good, my stuff wasn't there but I got a couple of calls early," said Ispas. "I really tried working down in the zone after that. Getting the no-hitter, it's awesome and even better to have the team pick you up. I have a lot of faith in our whole pitching staff."
Brandon Love came into the game at the top of the fifth, picking up where Ispas left off, leaving Seals batters ice cold.
After the game Love expressed his excitement on the no-hitter and getting his first win of the season.
 "I felt good and I pitched well," said Love. "My location was on tonight. Coaches and players are all very pleased, these types of combinations don't happen to people very often."
Rounding out the trio of POWER pitchers that kept San Francisco bats silent was Kesley Kondo. Kondo pitched a perfect ninth and although not a save situation Kesley was admittedly nervous.
 "It was nerve racking," said Kondo. "I didn't want to mess it up, and I am so excited to be a part of the first-ever no-hitter here."
In perfect POWER fashion, the boys in red pounded out 10 hits to plate six runs. The offensive charge was sparked by Ben Woodchick, who had two lead-off doubles and scored twice. Keenyn Walker, Ricky Gingras and Aaron Brooks each also had two hits on the night.
"Ispas' adjustments from his last outing were key," said Manager Tom Gamboa. "He was really keeping the ball down. Love was outstanding, changing speeds and locations extremely well. When our pitchers work fast and throw strikes our defense will make the plays."
The POWER return to action Tuesday night against the East LA Dodgers at Palm Springs Stadium where it will be $1 Beer Night.  Fans will be able to enjoy their Bud and Bud Light draft beers for only one dollar throughout the game.
For more information on the POWER, visit www.palmspringspowerbaseball.com.  For any other information please contact Palm Springs POWER Baseball Office at (760) 778-HITS (4487) or info@palmspringspowerbaseball.com. You can also follow Palm Springs POWER Baseball on Twitter, @PSPowerBaseball, or on Facebook, at www.facebook.com/pspowerbaseball.