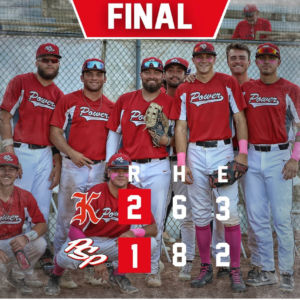 Palm Springs – The Palm Springs Power dropped their final game of the 2021 season 2-1 to the Colton Knighthawks. The Power finish their summer season 17-3.
Palm Springs' offense was quiet on the final Saturday night of the year, tallying their lone run of the game in the bottom of the second. After Anthony Angel Jr. reached on an error, Jake Biscailuz would single him home to put the Power on top 1-0.
Colton tied the game with a sac fly in the fourth, then later took the lead on a first-and-third rundown in the seventh. Palm Springs loaded the bases in the seventh and eighth innings but could not come away with a win. One run was the lowest output for the Power offense in 20 games this season.
The Power finish the year with 17 wins on the summer, including double-digit runs in thirteen games this season. In their three losses, they never fell by more than three runs.