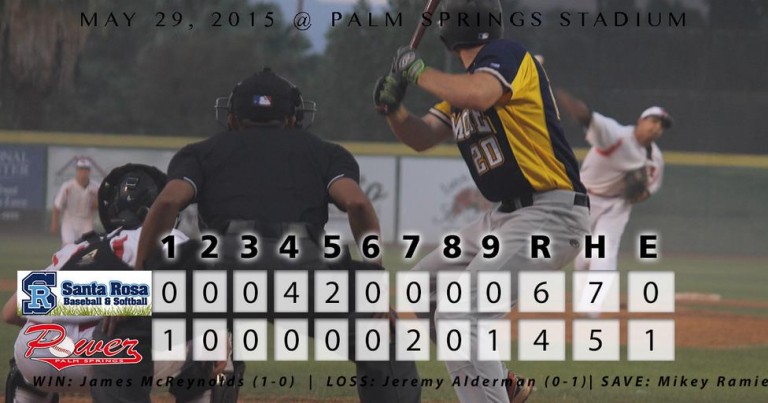 By: Andy Humphrey
PALM SPRINGS, Calif. – In the opening game of the 2015 season, the Palm Springs POWER lost out to the Santa Rosa Smoke by a score of 6-4 Friday.
The POWER began the scoring by grabbing a run in the first inning on a sacrifice fly by right fielder Devin Carter, scoring center fielder Nick Jackson. They didn't score again until the seventh inning, when first baseman Daniel Sander drove in left fielder Erik Maki on an RBI double. The next batter, catcher Chad Clark, brought around designated hitter Ian McLaughlin on a sacrifice fly. The POWER added one more run in the ninth, when third baseman Dylan Garcia smacked an RBI single to score McLaughlin.
Right-hander Jeremy Alderman started on the mound for the POWER to open the 2015 season. He threw four innings, striking out seven batters and allowing four runs on four hits in a loss. Ryan Avila came in relief from the bullpen and provided four innings of his own, allowing four runs on three hits. Brian Yount entered after Avila and didn't allow a run in the ninth.
Santa Rosa was able to put up four runs in the fourth inning and two in the fifth inning to seal the victory. James McReynolds started on the mound and managed to retire 14 consecutive batters en route to his first win of the season. Mikey Ramirez earned the save in the ninth inning, allowing one run on two hits.
The POWER will face the Smoke again Saturday, with first pitch scheduled for 7:05 p.m. at Palm Springs Stadium.