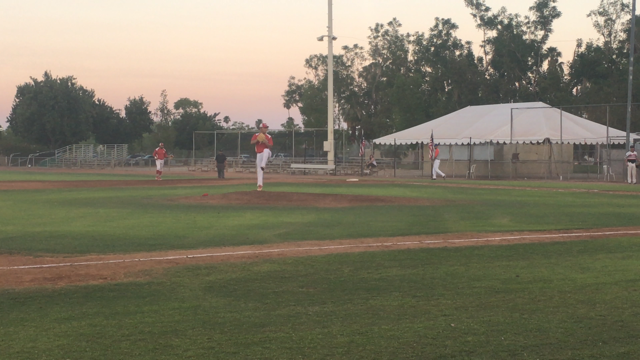 PALM SPRINGS, CALIF.-The POWER dropped their second-straight ball game as they lost to the So Cal Bombers 4-0. The starting pitching of the Bombers was in the zone yet again as starting pitcher Matt Grier went 5.2 innings giving up no runs off of seven hits and striking out seven of the POWER batters. Starting pitcher for the POWER Jumpei Akanuma did not have his best stuff tonight as he only went 4.2 innings in which he gave up three earned runs off of six hits and struck out five batters. Jumpei now moves to 2-2 on the year as a starting pitcher.
The Bombers jumped out to an early lead again as they scored two runs in the very first inning. To start off the game, Akanuma gave up two singles back to back to the leadoff and two-hole hitter of the Bombers. That would set up the two-run double by the three-hole hitter Patrick Vizcaino. After the Bombers started off hot they never seemed to cool down as they finished the game with 10 hits.
Palm Springs POWER broadcaster Clinton Cole caught up with head coach Casey Dill after the tough loss. Dill had this to say about the loss:
"That is a very good baseball team over there. I am happier with the way we played versus last night. Still did not play good enough to win, and we're still not taking as good of at-bats as we should be taking."
Coach Dill also said:
"We are going to have to overcome some adversity so Monday is going to be a real test to the type of team and the caliber of team that we are."
The POWER will be back in action on Monday with a double header against the San Diego Force in San Diego. After the double header on Monday the POWER will be back at Palm Springs Stadium on Tuesday and Wednesday for two more games against the Force. All are conference games so it will be a good chance for the POWER put up some W's in their conference record. After tonight the POWER are 13-4 on the year and are 2-2 in conference play.
-Alex Moore