Palm Springs, CA – The Palm Springs POWER team dominated in all areas of the game on Saturday night at Palm Springs Stadium, winning 6-0 against the Novato Knicks.  The POWER offense scored in each of the first four innings, while the pitching staff combined for another shutout and allowed only two hits.  The win improved the POWER to 21-1 on the season.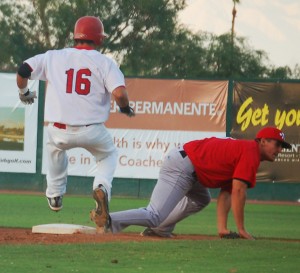 In the bottom of the first the POWER scored two runs and never looked back.  The POWER scored two more in the second followed by a run in the third and fourth innings.  The catalyst for the POWER offense was Chett Zeise who went three for four and drove in two of the six POWER runs.   Right fielder Keenyn Walker had a triple, while going two for three and scoring a run.  POWER second baseman Ben Woodchick reached base in three of his plate appearances. Woodchick had one hit along with two walks and drove in a run as well.
The pitching staff for the POWER was led by starter Brandon Love.  Love got the victory, going six innings, striking out four and allowing only one hit through those six innings.  Thomas Taylor relieved Love in the seventh inning and pitched in the eighth inning as well.  He allowed only a hit and struck out one.  Jacob Nelson came in to finish the game for the POWER.  In his one inning of work he struck out the side and didn't allow a hit.
The POWER return to action Sunday night against the Novato Knicks at Palm Springs Stadium celebrating the Fourth of July, with fireworks to follow the conclusion of the game.  Fans are encouraged to arrive early for the game that starts at 6:05pm with the gates opening at 5:00pm.  The local Sandblasters quartet will be singing the National Anthem, with Councilmember Chris Mills throwing out the first pitch.