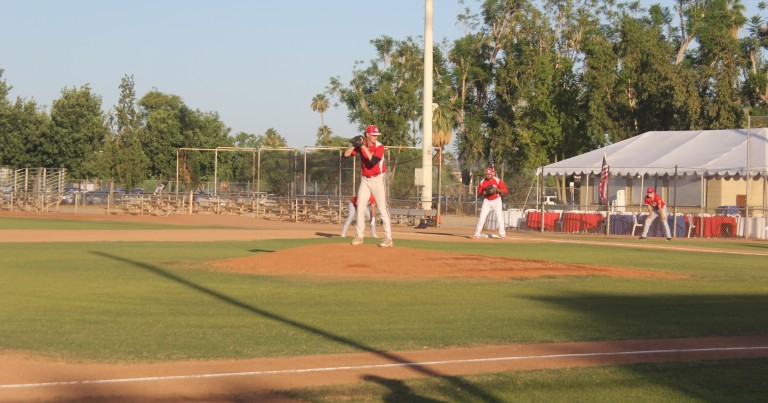 By Steve Sitter
PALM SPRINGS, Calif. – The Palm Springs POWER opened their 2017 season with a big win over the SoCal Catch by a final score of 6-1, despite falling behind on the very first pitch of the night.
POWER starting pitcher Jordan Dreibelbis (Harris-Stowe State University) gave up a leadoff home run to Catch shortstop Jonathan Ducoff before settling down on the mound, giving up just five total hits and striking out six batters in seven innings of work to earn the win. The Catch only managed to get runners in scoring position in the 5th inning. Bryan Menendez (UNLV) added a strikeout in one scoreless inning of relief, as did Gabe Gentner (Cal State LA).
POWER third baseman Taylor Grace (Michigan State University) had a solid defensive outing, making a diving play to rob Catch first baseman Steven Garrett of a hit in the 5th inning, as well as snagging two line drives.  Left fielder Skyler Hunter (Purdue University) also made a sliding grab off the bat of Zack Davis to kick off the 9th inning.
The POWER offense was led by 1st baseman Ryan Mota (Riverside Community College) who went 3-4 with a walk and 2 runs scored.  Hunter also had a multi-hit day, going 2-5 with an RBI. Designated hitter Cody Ducote (University of New Orleans) put up two RBIs as well.  Seven of the nine POWER starters had hits in the game, all of which were singles.
The series between the POWER and the Catch continues with game two tomorrow at 7:05 PM.