PALM SPRINGS, CA – The POWER won their twentieth game of the season, eighth straight game overall, and fifth straight league game, 11-1, Friday night against the Inland Empire Aces. The POWER stand atop the Southern California Collegiate Baseball League with an 11-1 record in league play and now stand at an impressive 20-3 overall. It was Cheerleading Night at Palm Springs Stadium, as the Palm Springs High School Cheerleading Team helped power another victory for Palm Springs.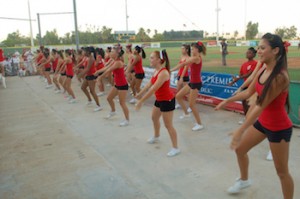 The Aces struck first in the top of the first inning off POWER starter Julian Esquibel (SO, Palomar College), as former POWER outfielder Cade Gotta came around to score on an RBI single by Chris Gonzales.
It was all POWER after that. Palm Springs first baseman and Palm Desert High School graduate Ryan Garvey (FR, University of Southern California) knocked in three, as he cleared the bases in the second with a double in a big four-run inning. The POWER scored in the next three innings and once in the eight as well. Jose Garcia (SO, College of the Desert) was his usual dominant self, tossing three scoreless frames with five strikeouts. The POWER took an 11-1 lead into the ninth when Kenny Sigman (JR, South Mountain Community College) came on to shut the door with a perfect inning of work.
Marcus Romero (SR, Southern Utah University) had a magnificent night, collecting his second three-hit effort of the season, picking up two doubles, two runs, a walk, and a stolen base, his seventh, tying team-leader Evan Boyd (JR, Mercer University). Frankie Torres (JR, Riverside City College) was impressive as well with two doubles, two runs, and two RBIs. Chett Zeise (SR, University of Iowa) had just one hit, but reached base in all five trips to the plate. The co-captain was happy with his performance: "walks allow you to see more pitches, which helps in later at-bats." Sure enough, Zeise's hit came in his final trip of the night, a hard hit ball through the hole on the left side of the infield in the eighth inning.
Julian Esquibel picked up the "W" for the POWER, his fourth on the season, as he is now 4-1 after beginning the season with a loss.
The POWER take on the Aces again tomorrow evening, the second of six games in six days for Palm Springs. First pitch will be at 7:05 pm, with the gates opening at 6:00 pm. All POWER games can be heard live on www.PSPBB.com, with select games simulcast on NewsTalk 920 KPSI Palm Springs. Also, be sure to check out our blog for more team information, including the lineups before every POWER game.