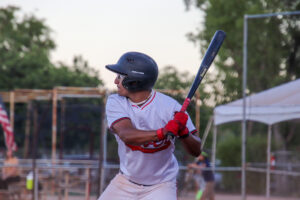 The Palm Springs POWER concluded their 2022 season Saturday, finishing with a 19-5 record. POWER relied on an outstanding pitching staff, posting a team ERA of 2.62 with 326 strikeouts 212 ⅓ innings.
POWER pitchers struck out 36% of all batters they faced. Carson Phillips led the team in innings pitched (46 ⅓) and strikeouts (66). Lefty Evan Shaw allowed only one earned run in 29 ⅓ innings.
Offensively, the POWER hit .286/.419/.354 as a team, drawing 158 walks and averaging over nine runs per game. The POWER owned the basepaths, stealing 65 bases in 70 attempts.
Antelope Valley star Noah Blythe paced the club in numerous offensive categories. Blythe hit a hefty .409/.453/.530 with seven extra-base hits.
Joey Mazzetti, playing all over the field, hit .321/.493/.491 with a team-leading 20 RBI. Mazzetti was 8-for-8 in steals and drew 15 walks. Mazzetti also posted a sterling 1.96 ERA with 34 strikeouts in 23 innings on the mound.
The POWER had a plethora of offensive performers. Emmanuel Dean (1.043 OPS), Tori Sweet (1.017 OPS), and Harrison Pontoli (.969 OPS) all produced at a high level for short stints.
The POWER had another successful season, further building their impeccable track record.
Thank you fans for an amazing 2022 season! We will see you back at Palm Springs Stadium for the 2023 California Winter League season with games tentatively scheduled to begin January 26th! Until then, keep up with all things Palm Sprins POWER and California Winter League through our various social channels and at palmspringspowerbaseball.com and californiawinterleague.com!