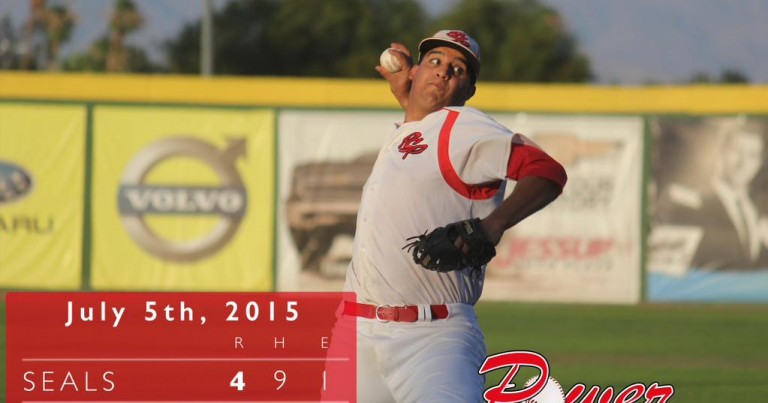 By: Andy Humphrey
PALM SPRINGS, Calif. – For the first time this season, the POWER earned a three-game series sweep by notching a comeback victory against the San Francisco Seals Sunday by a score of 7-4 at Palm Springs Stadium.
Right-hander Ryan Avila made his third start of the season for the POWER and earned the victory. He threw eight innings, allowing four runs on nine hits, with three walks and five strikeouts. He improved his record to 2-1 on the 2015 summer season throwing 107 pitches.
The POWER fell behind early as the Seals scored first in the second inning off of a sacrifice fly. They continued to extend the lead with two runs in the fourth inning and one more in the fifth for a 4-0 lead.
San Francisco's runs didn't go unanswered, as the POWER put up a couple of three-run innings to come from behind. Kobie Foppe got things started by driving in the first run on a sacrifice fly in the sixth, scoring Tyler Finkler. The big hit of the inning came from Daniel Sander, who blasted a two-run RBI triple scoring Foppe and Dillan Smith to cut the Seals' lead to 4-3.
In the eighth, the POWER completed the comeback by adding three more runs. Finkler led off the inning with a walk, then reached second on a sacrifice bunt. He then stole third and immediately scored the tying run on a throwing error by the catcher. The offense didn't stop there as Foppe and Smith both reached base, then were driven home on an RBI single by Court Iorg.
The POWER tacked on one more insurance run in the eighth as Foppe drove in Ian McLoughlin on an RBI double. Foppe went 2-for-3 on the night and extended his hitting streak to 15 games.
Max Compton earned his first save with the POWER this season with a scoreless ninth inning.
The POWER improved their record to 24-7 in 2015 with the victory. They head back out on the road Monday for a crucial double-header against the San Diego Force in a battle for first place in the SCCBL standings.