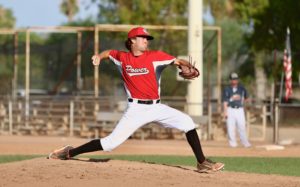 Palm Springs – The Palm Springs Power defeated the PSCL Uncommitted team 16-8 on Saturday night. The PSCL team showcased 25 of the best uncommitted talent of the Power Summer Collegiate League this year.
The Uncommitteds took advantage of an error in the first inning, scoring four times in the frame. The Power however answered back with three runs across the first four innings. The PSCL at one point led 7-2 before falling 16-8, being outscored 11-1 in the final four innings.
Strong Uncommitted performances from the game included: Jacob Kalt: 2-3, 3 RBI, Dalton Thomas: 2-4, 2B, 2 R, Max Weckel: 1.0 IP, H, 2 K, Hunter Hanes: 1.0 IP, H, BB. For coaches looking for players, the game is archived on the Palm Springs Power YouTube Channel.
The Power, with the victory, improve to 12-1 on the year with their sixth straight win. The two teams will play a similar style showcase game on Tuesday night at 7:05 PM. Tickets are available at the Palm Springs Stadium Box Office. The game will also be streamed live on YouTube.