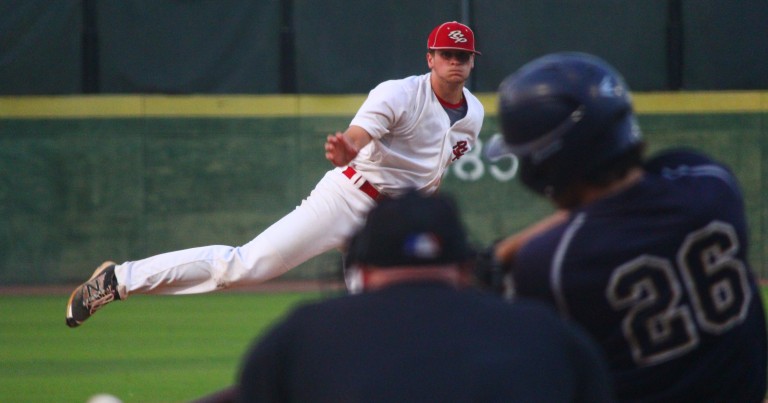 By Mark Cochran
The Palm Springs Power defeated the Arroyo Seco Sentinels 8-1 in Game 1 of the first round of the SCCBL Playoffs Tuesday night from Palm Springs Stadium.
The Sentinels came out swinging in the first two innings. They forced the first three Power batters out in each of the first two innings. But that came to an end in the third inning. The Power lineup exploded for five runs and 10 batters had a chance to hit.
Left-fielder Justin Wylie started the scoring for the Power with a 2-run double that plated Taylor Meilleur and Billy Johnson. Wylie, Skyler Hunter and John Mauldin would also come around to score and the Power would never look back.
Starter Sawyer Gipson-Long had another masterful performance. He went seven innings allowing only two hits and no runs with nine strikeouts.
"I'm always trying to throw a perfect game out here," said Gipson-Long. "Every single time I'm ready to go 27 strikeouts, I want to throw a complete game. That's the mindset I want to have. I want to be a Bulldog out here and it works."
Cody Ducote extended his season-long hitting streak into the post-season with a two-run single in the third inning. His streak is now at 30 games and that includes every game he has played in this season.
Another big performer on the night was catcher Taylor Meilleur. He went 2-2 with a walk and a hit by pitch and scored two runs.
The Power return to action in Game 2 of the series Wednesday night against the Sentinels. First pitch is set for 7:05 p.m. from Palm Springs Stadium.
Photo Credit: Clinton Cole