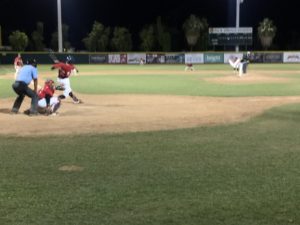 Palm Springs – The Palm Springs Power came away with a victory over the PSCL Uncommitted team 10-4 on Tuesday night. The win puts them at 13-1 on the season.
The PSCL took an early 1-0 lead in the top of the first. Jalen Freeman laced a triple down the first base line to put the recruit team ahead. The Power were unsuccessful against Martine Neal and Kai Symonds in the firs two innings, but plated a pair in the third to take a lead.
The lead was taken right back by the PSCL in their half of the fourth. A wild pitch and an error gave them a 3-2 advantage, but Power starter Eric Telarroja found his groove, eventually going seven innings (season high) while striking out eight (season high) and earning the win.
The Power bats backed up their right-handed starter. Bryan Leef drove in a pair of runs with two hits. Justin Mazzone brought home one with two hits and a walk. Casey Kleinman had two hits with two runs scored. The Power went on to win their seventh game in a row by a 10-4 final.
The Power return on Wednesday night to face off with the Inland Valley Bucs for Kids Day Wednesday. Kids twelve and younger get in to the ballpark for only one dollar. Tickets are available at the Palm Springs Stadium box office.