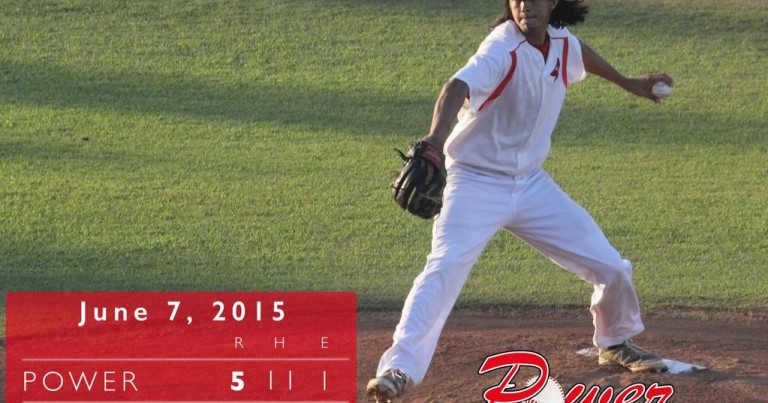 By Ryan Thies
PALM SPRINGS, Calif. – The Palm Springs POWER finished off the two-game series against Southern Nevada on Sunday Night on a high note where they got their sixth victory of the year at Palm Springs Stadium.
Southern Nevada started right where they left off on Friday, scoring two runs in the top half of the first inning. POWER starting pitcher Danny Diaz would settle in after that, only allowing three hits in the rest of his outing.
Tyler Finkler would get the POWER on the scoreboard for the first time off of Tyler Finkler's 2-RBI single in the home half of the second inning. Both of the RBIs would be Finkler's third and fourth on this young season.
Two more runs would be added in the fifth inning when the POWER would string together three consecutive singles from Miles Bice, Kobie Foppe, and Cody Gaertner. Chad Clark would ultimately bring in two runs on his single later in that inning.
Southern Nevada would put one more up on the scoreboard in the seventh on a 2-out RBI double by Jose Vergudo.
The POWER would answer right back in the seventh as Cody Gaertner came into score on a throwing error by the Southern Nevada catcher.
Carter Varga would replace the starter Diaz and only give up a lone run in his 1.1 innings of work. It would stay that way the rest of the game after Chad Clark would come into the game and earn his first save of the year.
Two out hitting was the story of the game for the POWER as three of their runs were scored with two outs on the board. The win now puts the POWER's record at 6-3 overall as they will resume SCCBL play on Tuesday against the San Diego Force. Tuesday's game will start at 7:05 and will be at Palm Springs Stadium and it will also be broadcasted on Team 1010 KXPS and on Team1010.com.