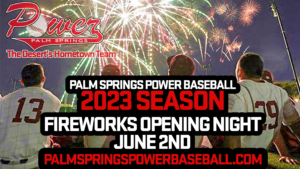 PALM SPRINGS, Calif – The Palm Springs Power are Coachella Valley's hometown baseball team, and they're back for their 20th season at Palm Springs Stadium. On Friday, June 2nd, the Power welcome in the new season with a fireworks display after their Opening Night game against the OC Legends, with first pitch at the historic ballpark located in Sunrise Park scheduled for 6:30 p.m., with gates opening at 5:30. Power manager Casey Dill returns for his sixth season at the helm, and he's excited to see what this team can do, "I think this is going to be one of the better Power rosters that we've had."
Players from top collegiate baseball programs around the country descend upon Palm Springs, and you can see all the action for just $10 general admission for adults, $8 for seniors, and $5 for kids 12 and under. In order to purchase tickets, you must visit the Power box office at Palm Springs Stadium, 1901 E. Baristo Road, on non-game days from 12-4 p.m., Monday through Friday, or one hour before first pitch on game days.
The Power return their top hitter by batting average from last year first baseman Noah Blythe, a Santa Clarita native who followed up a summer .409 average in Palm Springs with an impressive season for a very good Antelope Valley team in NAIA. Dill calls Blythe "a diverse player who can hold down the middle of the order."
Another player to watch is the University of Pittsburgh's Kyle Mosley, "an older experienced guy who's pitched a lot of quality college innings." Competing in the ACC, one of collegiate baseball's premiere conferences, Mosley has been a starter for Pitt most of the season.
Long Beach State's Julian Orozco is an enticing freshman prospect who had a 3.24 ERA for the Dirtbags this past season. Dill raves that "[Orozco] has got a really good arm, and his stuff will play." He's expected to eat up a lot of innings for the Power.
In local interest, Cal Baptist's Seth Mattox, originally from right here in the Coachella Valley, having attended Xavier College Prep in Palm Desert, will also pitch for the Power this year just a year after a breakout 2022 campaign that saw him post an impressive 1.98 ERA in 27.1 innings for the Lancers. Dill lauded that, "We actually got to see him on ESPN a couple of times," and expressed "It's great that we're able to get some of the better local guys to come play with us this summer."
The Power also run some enticing promotions that have fans flocking to the ballpark year in and year out. Coming out to a ballgame on a Tuesday will net you the opportunity to purchase draft beer for just $2, while on Wednesdays, you can drink wine for just $4. Saturdays are kids' days at the stadium, where kids get in for $5 courtesy of Jack in the Box.
The Power went 19-5 last season, and are looking to post yet another successful season to their record. This season, the Power are competing in the newly created and highly competitive California Premier Collegiate League (CPCL) and you can come out and enjoy the action with your family and friends as the Power look to take the inaugural league championship.