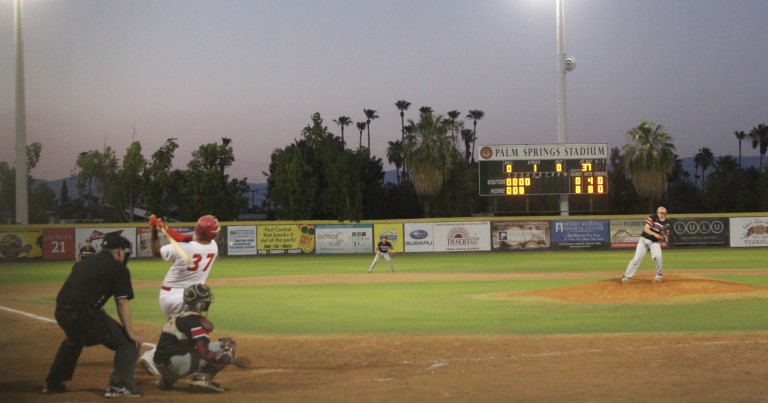 By Alex Gratys
PALM SPRINGS, Calif. – Ryan Mota (Riverside City College) may have got a few days off this week, but that didn't cool his bat down as he went yard for his eighth home run of the season in a 14-1 rout of the SoCal Bombers. The victory secured the series for the POWER and Palm Springs advanced to 11-2 in conference play.
The game was scoreless going into the third inning, until the POWER came up with eight runs in the bottom half of the frame to put the game out of reach early. Eight straight hitters reached base following the second out of the inning, including two-run doubles from outfielder Skyler Hunter (Purdue) and shortstop Hayden Schilling (University of New Mexico).
The fourth inning was also a big one for the POWER, as Ryan Mota rudely welcomed Bombers' relief pitcher Brenden Bergen to the game with another moonshot to right field, his eighth of the season. The POWER would score four more runs in the inning to push the lead to 13 runs.
Steven Baker (Chico State University) tossed six shutout innings and only allowed five hits and one walk while striking out five. Bayley Chesterton (Riverside City College) and Bryan Menendez (UNLV) combined for three innings in relief, allowing six hits and striking out five as a unit.
The Bombers made a push for some offense in the seventh as Joey Magro knocked in Nolan Hoff for their lone run of the game. The POWER would go on to win 14-1 and take the rubber match and win the weekend series. Palm Springs advanced to 16-2 overall and will have the day off tomorrow before returning to the field Tuesday for the first game of a two-game set against the San Diego Force.
Jersey night is Tuesday night, so come out to the ballpark wearing any sports jersey and receive a raffle ticket for a chance to win a signed baseball from a professional baseball player!
POWER Stats