Harry Gurley will return to his post as manager for the Palm Springs POWER for the 2011 season.  Gurley served as the team's pitching coach in 2010 under manager Tom Gamboa, who will manage the Los Angeles Angels' Single-A affiliate in San Bernardino.
Gurley has built a very distinguished coaching and scouting career at all levels including professional, collegiate and high school. Most recently Gurley was the pitching coach at Ohio State University for the 2006 & 2007 seasons. During that time, OSU led the Big Ten Conference in team ERA and had its first 10-game winner since 1999.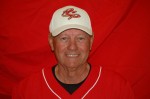 Prior to working at OSU, Gurley was an assistant coach at Southern Illinois when the Salukis finished second at the 1971 NCAA College World Series. He was also a head high school coach in Arizona, Texas, and Missouri. During those stints, Gurley won a Missouri state championship, was an Arizona state championship runner up, and won a Texas Regional championship.
In 1984, he spent one season as manager of the Helena (Mont.) Gold Sox of the professional Pioneer League (Class A) and led them to the league championship. Gurley also spent several years as an associate scout for the Kansas City Royals and the St. Louis Cardinals.
During Gurley's distinguished coaching career, he has worked with over 35 players who have played affiliated professional baseball, including 12 players who have made it all the way to the Major Leagues. Five of his prized pitching pupils have also been drafted in the 1st round of the MLB draft.
Joining Gurley's staff in 2011 are Dan DiPace and P.J. Jimenez.
DiPace has a long history of coaching, beginning in 2000 as a first base and hitting coach for the Aberdeen Arsenal. In 2002 he went on to become a first base and hitting coach for the Allentown Ambassadors in the Northern League, and the Long Beach Armada in 2005. DiPace was a first base coach for the Orange County Flyers in 2007-2008, winning the 2008 Golden Baseball League Championship. He was a coach, and in charge of player procurement, for the Palm Springs CHILL from 2008 to 2009, and is most currently the bench hitting coach for the Victoria Seals of the Golden Baseball League.
Jimenez played for the POWER from 2007-2009 and was named the team captain in 2009.