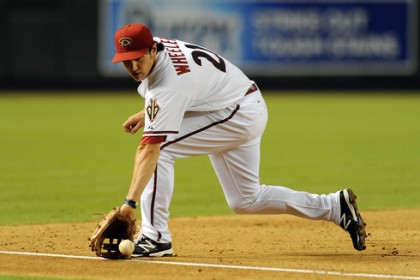 By Ryan Thies
PALM SPRINGS, Calif. – Brothers Ryan and Jason Wheeler have played on similar teams, but rarely at the same time. They both attended Torrance High School, played a year together at Loyola Marymount University and both have gone through the Palm Springs POWER organization. After a few years, destiny would have its way as both Wheelers are now playing for the Rochester Red Wings, a Triple-A affiliate of the Minnesota Twins.
Jason Wheeler, who played for the Palm Springs POWER in 2009, was drafted by Minnesota in the 8th round of the 2011 MLB Amateur Player Draft. After fours years, Jason has worked his way up the farm system to Triple-A Rochester where he is a starting pitcher.
Ryan has had a longer route to where he is today. In 2007, he was a part of the Palm Springs POWER and helped them win a league championship. After being drafted by the Arizona Diamondbacks in the fifth round of the 2009 draft, he made his major league debut in 2012 with the club. He played 50 games with Arizona that year before he was traded to the Colorado Rockies that offseason.
Ryan would remain with the Rockies for the next two years, appearing in 59 games. Late in the 2014 season, Ryan was placed on waivers and picked up by the Los Angeles Angels of Anaheim. After only seeing minor-league action with the Angels, he was released earlier this year.
With his options diminishing, Ryan found a match with the Minnesota Twins.
"I told Jason I got released and I jokingly asked if they needed a first or third baseman or a left-handed hitter," Ryan said about his options after being released by the Angels, "I had my agent talk with the Twins and three days later I was on a plane to Rochester."
On May 15th of this year, Ryan signed a minor league deal with Minnesota.
Both brothers were part of an SCCBL championship season with the Palm Springs POWER in 2007 and 2009, which were the first two in the club's history. There has been a good history of churning out professional baseball players out of Palm Springs.
Ryan said playing for the POWER was his first collegiate summer baseball experience and he enjoyed being around players and coaches that wanted to be there and push each other.
The Wheeler brothers are just a few of the many former POWER players playing in professional baseball right now, including five current and former POWER players drafted this year.