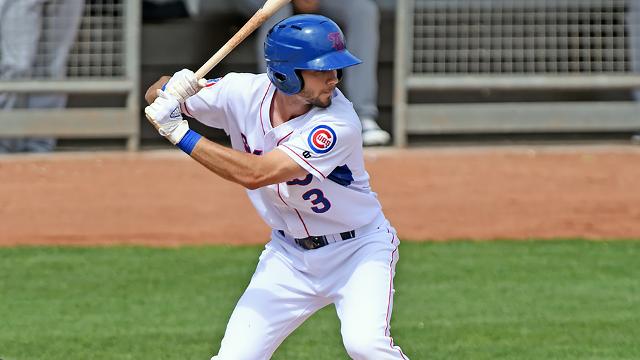 Chesny Young played for the Palm Springs POWER in 2012 where he batted .355 with 10 doubles and 28 RBI. He went on to get drafted by the Chicago Cubs in the 14th round of the 2014 draft.
From MiLB.com:
The plan was to let Chesny Young, the batting champion in the Carolina League a year ago, settle in defensively this season after his move up to Double-A.
"This year the main focus was to solely play him at second base to solidify a position," Tennessee manager Mark Johnson said. "He was all over the place last season."
Then Ian Happ — the Cubs' No. 1 prospect — joined the Smokies for the second half and second base was primarily his.
Young was on the move again, with third base now his primary position just like it had been at Mercer University.
As was the case with Myrtle Beach last season, it really hasn't mattered where Young played in the field. The 2014 14th-round pick has shown he can handle multiple positions without issue while continuing to excel as a table setter at the plate.
Entering Monday, the Cubs' No. 28 prospect was a .311 career hitter in 279 Minor League games while playing every infield position and both corner outfield spots.
If that sounds like an ideal player for Cubs manager Joe Maddon, you're right.
"I think he's the perfect guy to move around," Johnson said. "He's the utility guy you think about in the Major Leagues who is comfortable at multiple positions. I think it was beneficial for him to get a lot of time at second base, a position he hadn't played much. But this is a perfect time for him to start moving around again."
"I took me a little while to get comfortable at second with the double play, so it was good to get some time to settle in there," Young said. "Now I'm moving around again, which is fine. It can only help me to be able to play as many positions as possible."
Especially if you can also more than hold up your own at the plate. Young had a .321 batting average and .394 on-base percentage at Myrtle Beach last year and was hitting .293 with a .379 on-base percentage through 105 games with Tennessee this year after missing a week on the disabled list when he fouled a ball off his foot.
Actually, having a sub-.300 batting average is a rarity for the 23-year-old Atlanta native.
"I've never hit this low," he said.
Young batted .367, .401 and .348 in his three seasons at Mercer, then .354 in the Northwest League and .324 in the Midwest League in 2014 after signing with the Cubs.
The right-handed batter spent a month back in the Midwest League to start last year, batting .315, before moving up to Class A Advanced Myrtle Beach.
Despite his Minor League success his first two years, Young worked in the offseason on a few tweaks in his swing. "I wanted to improve some things. I thought there was more in the tank," he said.
Young hit .402 with the Smokies in April — winning Southern League Player of the Month — and earned the starting spot at second base for the North Division in the All-Star Game despite cooling down as the weather got hot.
"My swing got a little slow, a little stagnant, in the middle of the season," he said.
Young had a four-hit game at Chattanooga on July 26, though, and followed up with another four-hit outing at Birmingham on Aug. 2, which he capped by a homer off the scoreboard at Regions Field.
Young, who entered Monday with as many walks (54) as strikeouts and 15 stolen bases, missed a week shortly afterward because of the bruised foot. But it looked like he was ready to finish the season strong, just like he started it.
Maddon and the Cubs may have an ideal utility man on the way.