"Mr. Clutch, Mr. Consistency, or Mr. Utility"…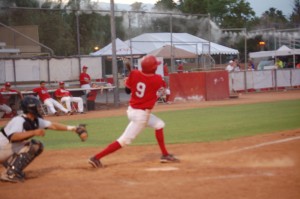 Position: C/3B
Height: 6'0"
Weight: 190 lbs. 
Throws/Bats: R/R
Hometown: San Diego
School: San Diego State
Favorite MLB Team: San Diego Padres
Mr. Clutch, Mr. Utility or Mr. Consistency – all can be used to describe Chris Wilson and his performance this season for the POWER. When following Wilson's play with the POWER, be sure to pay attention for defensive changes as Chris can be found playing all over the diamond.
Wilson has already spent time in Left Field and 1st Base in addition to being a listed Catcher/3rd Baseman. "I like it. Its fun and I like being thought of as a versatile player," said Wilson on his defensive responsibilities. Wilson's bat is a big reason he finds himself in the starting lineup nearly every game. Wilson leads the POWER in RBIs and is third in hits, total bases and walks. When asked about his early offensive success Wilson said, "I feel relaxed at the plate. I don't let the count dictate the pitches to swing at. I'm seeing the ball well which allows me to be selective."
POWER Coach Harry Gurley added, "You don't want to keep a player that good out of the lineup. Chris is a valuable commodity."
Come catch Chris and the rest of the POWER five nights a week this summer at Palm Springs Stadium.
– BY JEFF DALEY, POWER INTERN