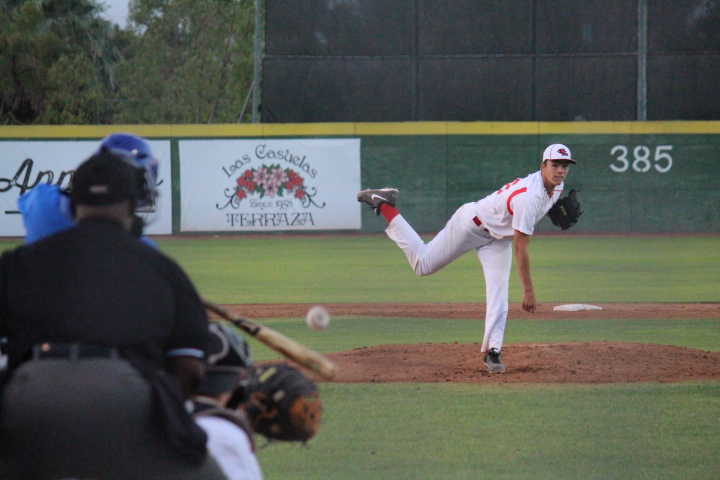 By Josh Miller
Another blowout game took place Sunday night at Palm Springs Stadium as the Power defeated the OC Waves 14-3. Morgan Earman from University of Arizona started the game and went four innings only giving up one hit before pulled in the 5th inning with the bases loaded and nobody out. Bill Olsen, making his first relief appearance this season, retired the next three hitters without giving up a run. He also pitched a scoreless 7th inning.
Offensively, the Power scored early and often. Hunter Bening flexed his muscles in this game belting an RBI double to right-center field in the 5th inning to bring in two runs, and lacing another deep double to left-center in the 7th inning. Another star of this game was Nick King, the utility infielder who played third base last night, played his natural position at short- stop tonight. His fireworks came in the 7th inning when he hit an inside-the-park-homerun to right field and it wasn't even a close play at home. Nick was pretty excited after the game, as he reflected on his rare achievement. "I was pretty tired rounding 3rd, and I didn't know he was going to send me, but he sent me and I was running as hard as I could and luckily I was safe," said King. Zach Sterry, the designated hitter and cleanup man tonight, also hit a triple in the 8th inning to pad the lead with two more RBI.
The Power get a much deserved off day tomorrow after opening the season 3-0. They are back at it again Tuesday night at Palm Springs Stadium against the San Diego Waves, and Wednesday night against the Inland Empire Senators. Both games start at 7:05.