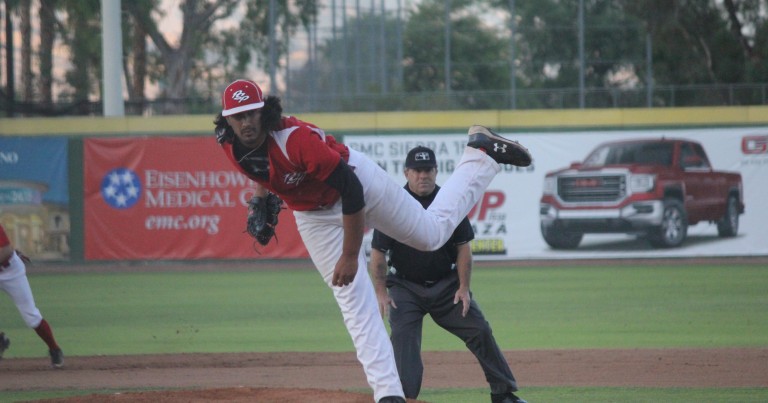 By Alex Gratys
PALM SPRINGS, Calif – The Palm Springs POWER completed the three-game series sweep over the Riverside Bulldogs on Sunday, winning 9-3 and advancing to 3-0 in SCCBL play and 8-0 overall.
Manager Casey Dill called upon 6'3″, 210-pound lefty Jacob Rebar (University of Utah) to put forth his best effort in his second start of the season. Rebar tossed five innings of four-hit ball and struck out ten Bulldogs, while only allowing one earned run in the victory.
Brett Rasso (St. Mary's) made his first start as a member of the POWER and made a big impact, officially going 0-for-2 but drawing two walks and driving in two runs. John Mauldin (University of New Orleans) drove in two runs himself, as Hunter Stratton (San Diego State University), Tyler Pritchard (USC) and Taylor Meilleur (St. Mary's) knocked in a run of their own.
After a one-run contest in the early going, the POWER were able to take a four-run lead in the fourth thanks to back-to-back sacrifice bunts from Taylor Grace (Michigan State) and Tyler Pritchard to make things 5-1. Riverside would make their closest comeback attempt in the fifth, thanks to some timely singles from Kyle Kabeary and Nate Munoz.
The POWER put another three-spot on the Bulldogs in the seventh, due in part to a very sloppy inning defensively. Bulldogs first baseman Chase Sebby hit a solo homer in the eighth, but Palm Springs' relief corps of Felix Minjarez (University of Redlands), Andrew Kane (Mercer), Bryan Menendez (UNLV) and Gabe Gentner (Cal State LA) combined for four innings of relief work and only allowed one run to seal the victory for the POWER.
After completing the series sweep with an 8-4 victory, the POWER improved to 3-0 in conference play with their next opponents being the Arroyo Seco Sentinels on Tuesday and the San Diego Force on Wednesday.
POWER Stats