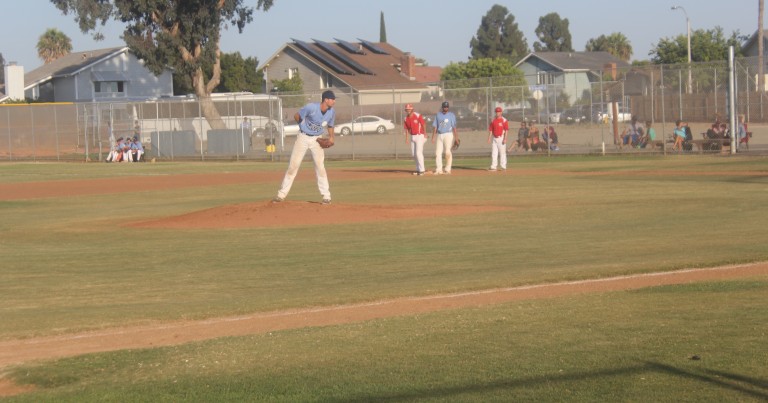 SAN DIEGO- POWER fans aren't used to dropping two conference games in a row at home and they definitely aren't accustomed to losing three in a row.
The POWER had a chance to right the ship with a doubleheader in San Diego today against the Force.
Game One- The 17-inning, 4.5 hour marathon ended when Devin Carter hit a walk-off line drive into left field to give the Force a 6-5 win.
Ace Jordan Dreibelbis took the mound for the POWER and went 6.2 innings but trailed 4-3 when he departed.
The POWER tied the game in the 8th inning when Taylor Grace's RBI double made it 4-4. Neither team would score until the top of the 17th when John Mauldin blasted a leadoff homerun over the left field wall to put the POWER ahead 5-4.
Cody Ducote scored the first run of the game on a wild pitch in the third inning. Andrew Brown and Taylor Grace also drove in runs to give the POWER a 3-0 lead midway through the game.
San Diego answered with two runs in each of the fifth and sixth inning highlighted by a solo home run from Nick Zaharion.
Neither team scored from the 8th to 16th innings which led to numerous lineup and pitching changes.
Gabe Gentner and Josh Tedeschi held the Force bats in check but the home team got to CJ Broussard in the 17th.
GAME TWO- POWER jumped in front 3-0 after an inning and a half behind the bat of Cody Ducote. The slugger from LSU rocked a two-run double into right-center field. San Diego answered right back in the bottom of the second with three runs of their own to knot it up at three.
San Diego scored thrice in the third and carried a three-run lead into the fourth inning. The POWER added a run in the top of the fifth when a hit-and-run led to a throwing error that allowed Taylor Grace to score making it 6-4 halfway through the game.
Game Two will resume tomorrow evening at 6:00 and will be heard on Team1010.com and 1010 KXPS in the Coachella Valley.