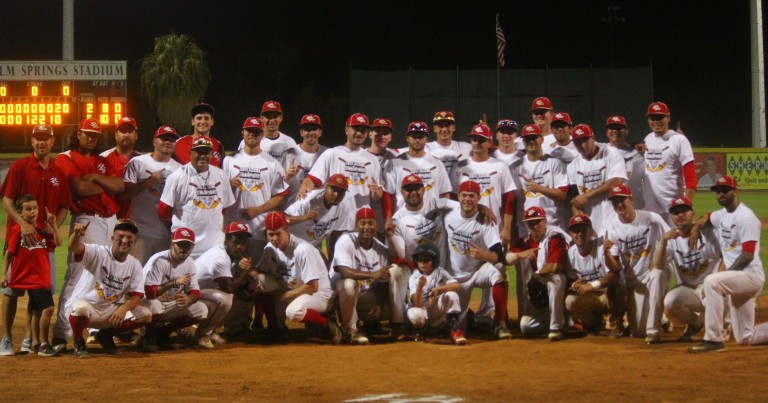 By Mark Cochran
PALM SPRINGS, CA – The Palm Springs Power defeated the San Diego Force 6-2 to claim the 2017 SCCBL Championship Saturday night at Palm Springs Stadium.
This is the Power's eighth league title since their inception in 2004. They won this rematch of the 2016 Championship beating the Force in two straight games to avenge their loss last year to the Force in the championship game.
"I can finally take a deep breath," said Manager Casey Dill. "This was the goal from day one and I wasn't able to take my foot off the gas pedal until this moment right here. So it's a big relief, I'm able to take a deep breath and I'm gonna enjoy the moment."
The Power won this game on the backs of their pitchers and with some key hits from their impressive lineup.
Starter Jordan Driebelbis (Vanguard University) pitched a gem. The Power ace went seven innings allowing only two runs and striking out an impressive 11 batters. He pounded the strike zone all night and made the Force lineup look foolish constantly. It is only fitting that he is the one to pitch the final game. The season began with a win from Driebelbis all the way back on June 2nd where he went seven innings as well. He has been an anchor for this Power rotation and never let them down.
Home run king Ryan Mota (Cal Baptist) continued to do what he does best, hit home runs. The game was a pitcher's duel much like Game 1 with both pitchers not allowing runs through three innings. Then in the fourth inning, Ryan Mota started the scoring with a towering solo home run that seemed to go all the way to the street. That put the Power up 1-0 and they never lost the lead.
The Power tacked on two more runs in the fifth, two in the sixth and one in the seventh for a total of six runs. That would be all they need as the Force was only able to scrape together two in the eighth inning to salvage some pride.
This was one of the best Power teams in history breaking nine franchise records this season. Five players broke the career batting average record, John Mauldin (University of New Orleans) broke the career doubles record and the single-season runs record with 50, and Ryan Mota shattered the single-season home run record with 13 and those are just a few.
They're unbelievable players," said third baseman Taylor Grace (Michigan State). "Guys themselves are unbelievable, they're great guys and I would play with them anytime."
The Power finishes the season 31-3 and was a perfect 4-0 in the playoffs.
The California Winter League begins January 25, 2018, at Palm Springs Stadium.
Picture Credit: Clinton Cole