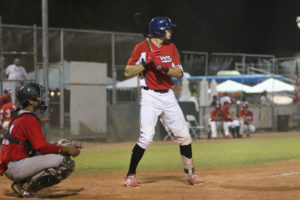 Palm Springs – The Palm Springs Power exploded for an 11-2 win over the San Diego Force on Wednesday night. The Power swept the two-game set.
Palm Springs' offense got started with a Jacob McCaskey sacrifice fly in the first, but got ramped up in the second and third. Bryan Leef sat on a 3-0 pitch up in the zone and sent his first home run of the season to drive home three. Leef's last six hits over the course of three games have gone for extra bases: two triples, three doubles and home run. Ryan Rodriguez plated two with a double in the third to go along with a Cam Schneider RBI single. Rodriguez finished with four RBI. The Power scored eight runs in the second and third with five hits.
San Diego plated two in the third but the Palm Springs bullpen shut down the offense. Sakemi Sato and Nick Beardsley combined for five shutout innings on just four hits. The Power took the final 11-2 in three hours and five minutes to move to 10-1 on the season, reaching the halfway point of the condensed summer schedule.
The Power return to action on Friday night to host the Arroyo Seco Sentinels at 7:05 PM. Tickets are available at the Palm Springs Stadium box office.