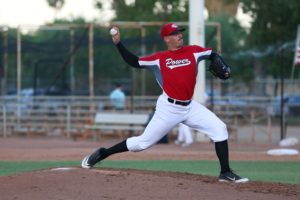 PALM SPRINGS, Calif – The Palm Springs POWER returned to the field after nearly two years away with a victory of the OC Legends, with a score of 10-0. The POWER offense was paced by 11 hits, including contributions from CF Izayah Alvarez and Bryan Leef going 3-for-4 with 5 RBI and 2-for-5 with a double and two runs scored, respectively. The explosive offensive performance meant that all fans in attendance received FREE Jack in the Box Tacos as the POWER scored 9 runs or more.
POWER pitching kept Legends off balance all night with a dominant, one-hit performance. Righty Grant Nechak out of the University of San Francisco got things started on the mound with 3 innings pitched, allowing just one walk. POWER pitchers struck out 12 hitters total, led by Nechak with 5 k's.
The POWER are back in action tomorrow night, June 12th, at 7:05PM against the Long Beach Legends. Saturday home games feature half priced bottles of beer at Palm Springs Stadium. Be sure to come out for more fun baseball action and follow us on Twitter, Instagram, and Facebook!