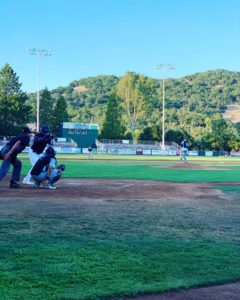 From the Power to Pro Ball: Justin Watland and his two-Championship summer
By: Megan Castellucci
Palm Springs, Calif. – This summer was one filled with magic and history for the Power. However that magic did not stop after the final out of the Power's SCCBL championship win on July 19th for Justin Watland.
The 6'4'', right-handed pitcher out of San Jose State got a phone call from San Rafael Pacifics' Owner and General Manager, Gabe Suarez immediately following the 2019 Power Season. Suarez was in need of a starting pitcher and Justin Watland was just what the Pacifics were going to need down the stretch after the recommendation from Power Manager, Casey Dill.
The Pacifics are an independent, professional baseball organization in the Pacific Association of Professional Baseball Clubs. The Pacific Association is home to five professional, independent clubs, all based in Northern California.
Watland, a senior from Reno, Nevada, had 10 appearances with the Power, three of those appearances being starts. He finished the season with a 2 – 0 record, notching 33 strikeouts, posting a 4.97 ERA, in 25.1 innings of work.
Prior to joining the Power for the summer, at San Jose State, Watland made 33 appearances over two seasons; one of those appearances was a start against the University of San Francisco. During his senior season, he had 19 strikeouts in 24 innings of work.
Watland played in eight games for San Rafael, his first professional appearance taking place on July 25th, six days following the Power season. Prior to the Pacific Association Playoffs, Watland appeared in seven games, six of those being starts. He finished 3 – 0, with a 4.45 ERA, with 43 strikeouts over 34.1 innings of work. His best outing came on August 1st , pitching 6.0 innings and striking out 10 batters. He held the Vallejo Admiral hitters to a .146 batting average during this appearance.
On August 30, the rookie got the nod to start game one of the championship series against the first place, Sonoma Stompers.
Watland recalls, " I was excited to get the start for game one of the championship. My family was able to make it out, so it was a great day."
Watland went 4.0 innings, while he received the no – decision, his team went on to take game one of the series.
On September 1, Justin Watland experienced something not many athletes have the opportunity of doing over the course of a career; Justin Watland found himself apart of a team winning another championship game. The second in under two months.
" No matter what level you play at, winning a championship is a big deal. It's something no one can take away from you for the rest of your life. In addition to that, I think the coolest part of winning a championship is the relationships you keep with the guys on that club because together you accomplished something that's special," said Watland.
When asked about his time in professional baseball, Justin Watland expresses excitement about the future, saying, " I had a great experience playing in San Rafael with guys from all over the world. It was a great start for me to see what I need to do to continue moving forward."