The Palm Springs POWER Baseball Club recruits elite collegiate players from around the country to come to Palm Springs and play baseball in the months of June and July. The POWER organization strives to provide affordable entertainment as well as quality baseball for the residents of the Coachella Valley.
PHONE

: (760) 778-HITS (4487)

FAX:       (760) 325-7206

EMAIL:  info@palmspringspowerbaseball.com
ADDRESS

:  1901 E. Baristo Rd., Palm Springs, CA 92262  View Map

For information on POWER internships, click here.

For information on umpiring, click here.

Feedback? Send us your suggestions! click here.
POWER Front Office
Andrew Starke
President

Andrew Starke has been the sole Owner and President of the Palm Springs POWER Baseball Organization since its creation in the fall of 2003.  The POWER organization is the parent company of the California Winter League, thus his responsibilities cover all day-to-day operations of the CWL as well.  Mr. Starke started the company from the ground up since he was 23 years old and has seen it grow at a rapid pace to its current employment of over 75 full and part-time staff.
Mr. Starke currently serves as an executive board member for the Palm Springs Police Officers Association's Memorial Fund Honorary Board. In June 2007, he received the Palm Springs Small Business of the Year award from the Chamber of Commerce and the City of Palm Springs. In addition to owning the POWER & the CWL, Mr. Starke works part time as an associate scout for the two-time World Series Champion Philadelphia Phillies and has done so since 2010.
On the field, he was a four-year scholarship baseball player and graduate of Mercer University in Macon, Georgia, with a degree in Business Administration.  Throughout college he not only earned All-Conference honors on the field, but also was a member of the Atlantic Sun Academic All-Conference Team.
Mr. Starke is a full-time resident here in Palm Springs with his wife, Vicky, their two sons Christian and Caleb, and their daughter Charlotte.  He is very proud of the accomplishments and growth of the POWER organization over the past 16 years and looks forward to keeping baseball here at Palm Springs Stadium for many years to come.
Contact Andrew Starke
Justin Reschke
Vice President of Business Operations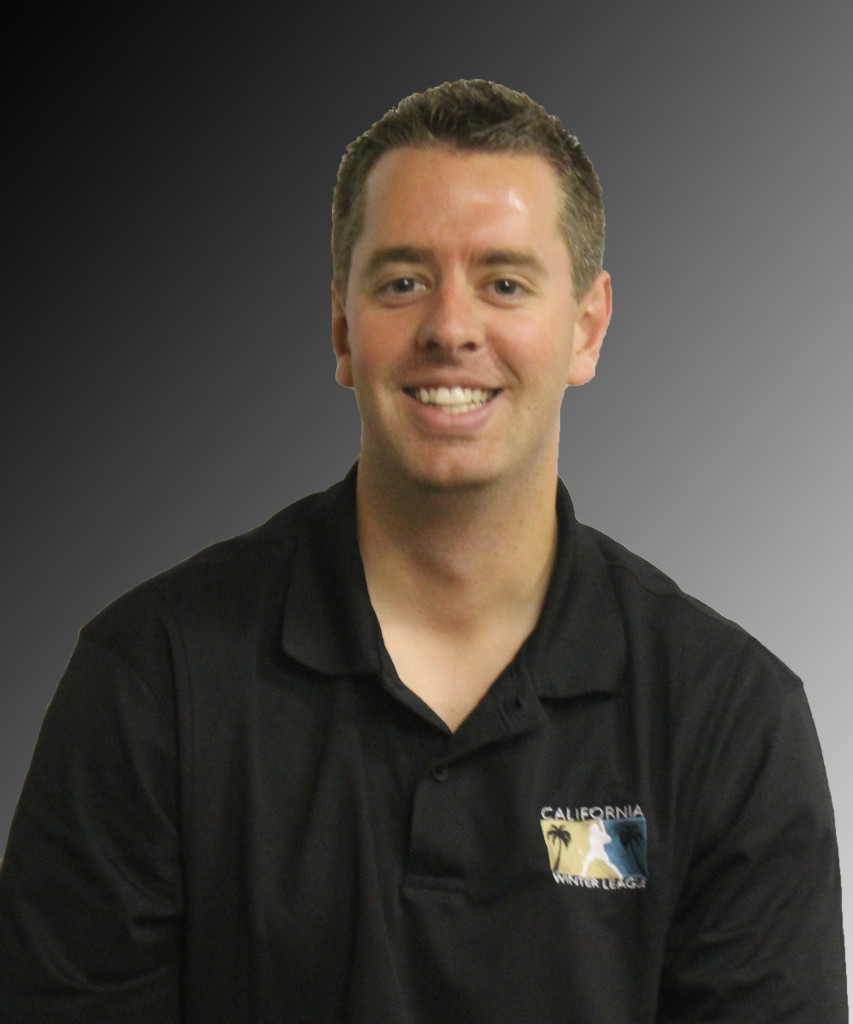 Justin graduated from The Ohio State University in 2010 with a Bachelor's degree in Sports Management. He began his career in the sports industry as a director for Skyhawks Sports Academy, overseeing sports-themed day camps in the San Francisco Bay Area. Upon graduation, Justin began working for the Golden Baseball League as director of media relations. In 2011, Justin assisted with the league's transformation as it expanded and became known as the North American League. He also had extensive experience working with the instructional, and now defunct, Arizona Winter League. In October of 2012, Justin joined the California Winter League as Vice President of Business Operations and is excited for the next POWER season.
Justin is originally from Alamo, CA in the East Bay Area, and is an avid fan of the Athletics, Sharks, 49ers, and, of course, the Buckeyes. He also enjoys skiing in Tahoe and playing hockey when time allows.
Contact Justin Reschke
Coaching Staff
Casey Dill
Manager
Casey returns to the Power for his first season as Field Manager after serving as the teams Head Coach in 2016. He is Associate Scout with the Atlanta Braves and Scouting Supervisor of the Southern Illinois Miners of the independent professional Frontier League.
He is a graduate a Major League Baseball Scout School and has worked in player procurement in different levels of professional baseball the past 5 years, helping build 3 championship rosters.
Casey has worked as a Field Manager in professional and summer collegiate baseball for 9 years earning an overall record of 371-220 and four league championship.
He has also coached collegiality at Chico State University, New Mexico Highlands University and Harris-Stowe State University. Casey holds a Bachelors Degree in Business Administration and is pursuing a a Masters Degree in Sports Management at Columbia College.
Dr. Patrick St. Pierre
Official Team Orthopedist

Dr. Patrick St. Pierre has joined Desert Orthopedic Center as the Director of Sports Medicine. Committed to Sports Medicine, Dr. St. Pierre has served as team physician for Army Athletics (West Point), Tacoma Sabercats (AA Professional Hockey) West Coast Hockey League, Tacoma Rainiers (AAA Professional Baseball) Pacific Coast Baseball League and Marymount University.
Dr. St. Pierre is a graduate of the United States Military Academy at West Point and the Uniformed Services University of Health Sciences in Bethesda, Maryland. After completing his orthopedic surgery residency at Madigan Army Medical Center, he completed fellowships in Medical Research at the Walter Reed Army Institute of Research and in Orthopedic Sports Medicine at West Point. He is certified by the American Board of Orthopedic Surgery and is an active member of the American Academy of Orthopedic Surgery, the Arthroscopy Association of North America and The American Orthopedic Society for Sports Medicine and the American Shoulder and Elbow Surgeons.
Dr. St. Pierre is very involved in Sports Medicine and Shoulder research and has been recognized with several international and national awards which include:
– The 2004 Hughston Sports Medicine Award
– The 1995 Arthroscopy Association Resident/Fellow Research Award
– The 1995 "Hoff Medal" as Distinguished Graduate, Walter Reed Medical Research Fellowship
– The 1994 Easter Orthopedic Association Resident/Fellow Research Award
He has written numerous articles, book chapters and has edited four books on Sports Medicine. He frequently lectures around the world on sports medicine, shoulder and arthroscopy topics.
Dr. John Feller
Official Orthopedic Radiologist


Dr. Feller currently is Medical Director of Desert Medical Imaging, The PET/CT Center, Desert Medical Imaging of Indio and Desert Medical Imaging of Palm Springs, and is the MRI Consulting Radiologist for Desert Orthopedic Center. He maintains an academic affiliation with Stanford University where he is an Assistant Clinical Professor in the Department of Radiology (1991 – present).Dr. Feller completed his undergraduate training in Metallurgical Engineering and Materials Science at the University of Notre Dame (1978 – 1982), graduating cum laude. He then attended the Ohio State University School of Medicine (1983 – 1987) , graduating summa cum laude. Dr. Feller subsequently completed four years of post graduate medical training at Stanford University School of Medicine (1987 – 1991), culminating in Board of certification in Diagnostic Radiology. Following Fellowship training in an orthopedic and body MRI (1992), Dr. Feller became Chief of MRI at David Grant USAF Medical Center, a position he maintained for four years (1992 – 1996).
Desert Medical Imaging is the official imaging center for Palm Springs POWER Baseball.
Tahari Reed (T-Bone)
Director of Security

Tahari Reed is the co-owner of Watchdog Inc. with Edward Greer. Reed has been in the security industry for more than 22 years and with the POWER since 2004. In addition to providing protection, he also serves as a football coach at Palm Springs High School.
Shirley and Edna Dickson
The POWER Pit Management


The Palm Springs POWER hope you are enjoying our "POWER Pit," otherwise known as the concession stand. The POWER Pit is run by the owner of Above the Best Catering, Shirley Dickson and her top general, Edna Dickson, more affectionately known as "Mamma D". The mother/daughter combo has been a fixture at POWER games since the first season in 2004. However, it was not until the 2006 season that they took over the task of running the POWER Pit.
Mamma D, originally from the East Coast, spent 18 years in Las Vegas working as a cocktail waitress at the Hilton, Flamingo, Desert Inn, and Hacienda Hotels. During that time, Shirley was raised in Vegas and graduated from El Dorado High School before they both moved to California. Now the sole owner of a catering company, Shirley loves being a part of the POWER team and making sure all of the POWER fans leave the stadium full and satisfied. Above the Best Catering services virtually all the private aircrafts leaving from the Palms Springs and Thermal Airports.