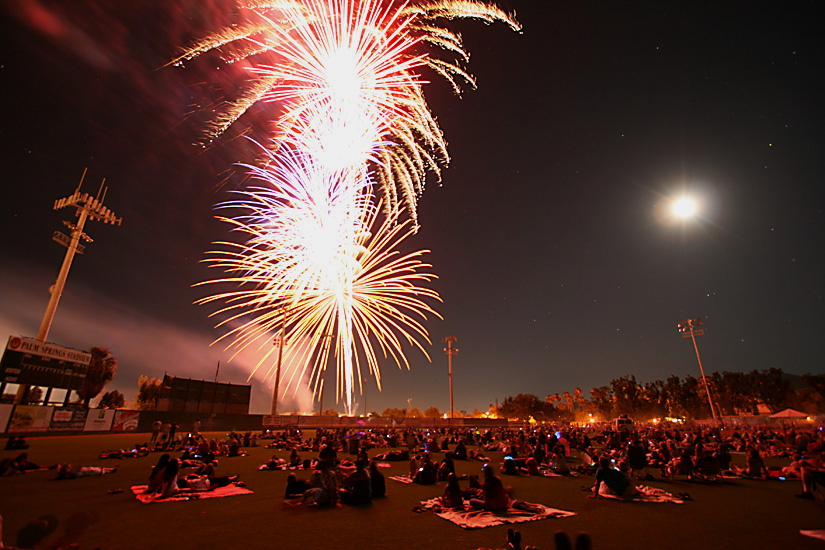 VIP TICKETS ARE COMPLETELY SOLD OUT FOR JULY 4TH BUT PLENTY OF GA SEATING WILL BE AVAILABLE. FANS CAN PURCHASE TICKETS AT OUR BOX OFFICE WHICH WILL OPEN AT 4:30PM ON JLY 4TH. PRE-SALE HAS CONCLUDED.
July 4th 6:00pm, Gates Open at 4:30pm: Come celebrate the best July 4th celebration in the Coachella Valley with the Palm Springs POWER and the City of Palm Springs. The POWER take on the PSCL All-Stars at 6:00 pm Monday evening. The gates to the stadium will open to a firework extravaganza, which will begin shortly after 9:00 pm. As always, the stadium will be packed for July 4th, so come early and leave plenty of time to get the best seat in the house.
General Information
Where: Palm Springs Stadium — 1901 E. Baristo Rd, Palm Springs, CA 92262.
Additional parking is available in the Ralphs parking lot on the northwest corner of Sunrise and Ramon and in the Mizell Senior Center parking lot on the northeast corner, at the mall on the northwest corner of Farrell and Baristo, and at Palm Springs High School off of Baristo Road. Street parking will be available as usual, pending normal rules and restrictions.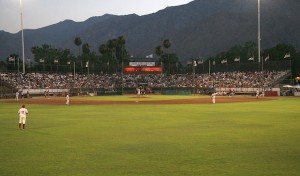 Who: POWER vs. PSCL All-Stars. Fireworks provided by the City of Palm Springs.
When: Gates open at 4:30 pm. First pitch 6:00. Beer served from 4:30-8:00 pm. Fireworks 9:15 pm.
What: Baseball, hot dogs, beer, fireworks, national pride, and family fun. NO outside food or beverage allowed. NO coolers.
Ticket Info: You can buy tickets the day of the game at the gates.
$30 VIP Area featuring covered seating with tables and chairs, unlimited hot dogs and popcorn, and discounted beer and soft drinks (SOLD OUT!)
$13 POWER ticket (includes hot dog and soda)
General Admission: $10 Adults, $8 Seniors, $5 Kids
Questions: See more information below, and feel free to call our offices at (760) 778 – HITS (4487)
More information:
Please note the special start time for the July 4th POWER game. First pitch will be at 6:00 and the gates will open at 4:30 pm.
Fans WILL begin arriving well before 4:30 pm.
NO outside food or drink will be allowed into Palm Springs Stadium with the exception of one unopened, regular sized bottle of water per fan. NO EXCEPTIONS. NO COOLERS. You may bring towels, blankets, and other similar items to use during the post-game firework show. Fans will be allowed on the field after the game to watch the spectacular display put on by the City of Palm Springs.
Seating, as usual, will be general admission with the exceptions of special seating for the VIP area and reserved field box seats.
The POWER concession stand serves all your ballpark favorite and many more! Hot dogs, hamburgers, popcorn, Cracker Jacks, sunflower seeds, peanuts, chips, candy, ice cream, soda, Gatorade, water, beer, as well as our made-to-order salads.