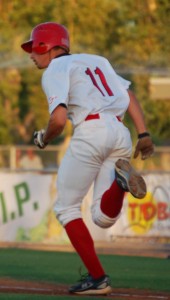 The Palms Springs POWER escaped with a narrow victory on a wild night. After coming back from two runs down,  the POWER improved to 18-1 on the season, and 13-0 in SCCBA play with a 7th inning rally to beat the SoCal Cardinals 4-3.
In the inning, shortstop Brandon Macias hit an RBI triple to put the power within one. Following that, centerfielder Brett Christopher hit a sacrifice fly to tie the game at three. In the 8th, with the score tied at three, leftfielder Marcus Romero lead the inning off with a walk, only to be drove in by the designated hitter Ben Woodchick.
Prior to the late inning heroics, POWER manager Tom Gamboa was thrown out of the game for arguing that a Cardinals player went out of the base path when Macias went to tag him from a pick off move from pitcher Craig Rasmussen.
Starting the night was Kayvon Bahramzadeh who went five innings allowing one earned run and striking out two. Relieving Bahramzadeh was San Diego State pitcher Craig Rasmussen. Rasmussen went 3 innings to pick up the win, improving to 3-0 on the season. Rasmussen also had two pick-offs in the seventh to help secure the victory. Closing out the night in relief was pitcher Gabriel Aguilar, who went one inning striking out 1 to pick up the save.
The POWER return to action again on Wednesday night June 30, when they look to take the one-game series against the Poway Thunder at Palm Springs Stadium. First-pitch is set for 7:05 PM with gates opening up at 6:00 PM. 
Please be sure to join us Wednesday for Golfer's Appreciation night. Golf lovers will be able to participate in various chipping and putting contests, in addition to enjoying the action on the field. Along with the festivities, a silent auction will be held for rounds of golf at some of the Valley's finest golf courses including Desert Willow Golf Resort, The Springs Country Club, Escena Golf Club, The Westin Mission Hills, Tahquitz Creek, and Cathedral Canyon. Brady Wilson, Director of Golf at Classic Club, will be throwing out the first pitch.