The Palm Springs POWER had their fans on their feet, trailing in the bottom of the ninth inning and delivered, winning 2-1.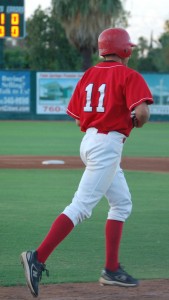 Trailing since the third inning 1-0, the POWER saw their first home run of the season when CF Brett Christopher laced one over the left field fence to tie the game at 1-1 in the sixth inning. Christopher went 2-4 on the night with a double, a home run and a stolen base.
Then, in the bottom of the ninth with one out, and one on, 3B Chris Wilson drilled the ball to the deep left field corner for a triple, to win in walk-off fashion 2-1. Subsequently, he was mobbed by his teammates who were on their feet from the crack of the bat.
Pitcher James Crockett started the night, going five innings with five strikeouts. Reliever Ismael Gutierrez came in to relieve Crockett, and went four innings striking out five as well. 
The POWER return to action again on Friday July 2, when they look to take the three-game series against the Novato Knicks at Palm Springs Stadium. First-pitch is set for 7:05 PM with gates opening up at 6:00 PM. The POWER will be celebrating Veterans' Appreciation Night Friday, with all veterans receiving $5 admission to the game.
POWER fans, the 2010 July 4th Fireworks are back! The POWER Family would like to thank Palm Springs Mayor Steve Pougnet for all of his hard work in coordinating the private fundraising to finance the extravagant July 4th show the West Valley citizens and POWER fans have grown accustomed to. We would also like to thank all of the donors whose contributions have made this possible.
The POWER Organization is still trying to raise almost $5,000 to pay for services needed to coordinate this year's event. If any fans, supporters, or residents would like to contribute, please call the POWER office at (760) 778-4487. Thanks!