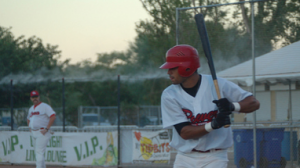 It has been an eventful couple of days for POWER alum as the 2011 MLB Amateur Draft has progressed.  As of Tuesday evening, seven former POWER players have been chosen in this year's draft.
OF Keenyn Walker was taken with the Chicago White Sox's first pick of the draft, the 47th overall. Walker was a key player for the 2010 team.
LHP Jason Wheeler, a member of 2009's championship squad, was snagged by the Minnesota Twins in the eighth round.
RHP Aaron Brooks was picked up by the Kansas City Royals in round number nine. Brooks spent two seasons in Palm Springs, both '09 and '10.
2B Kevin Medrano, another member of that 2009 team, went in the 14th round to the St. Louis Cardinals.
3B Garrett Buechele, who played for Palm Springs in 2008, also went in the 14th, heading to the reigning World Champion San Francisco Giants.
RHP Brooks Belter's selection in the 25th round by Tampa Bay made him the fourth member of the 2009 POWER team to be selected in this year's draft.
LF Joe Winker was picked by the Los Angeles Dodgers in the 28th round. Winker played alongside Brooks, Wheeler, Medrano, and Belter with the POWER in 2009.