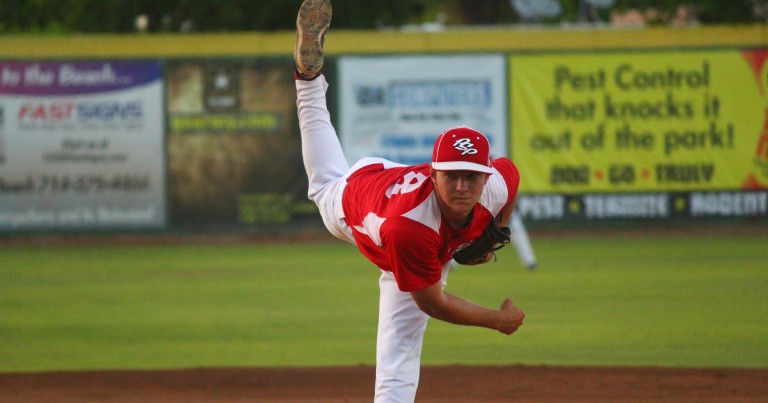 By Steve Sitter
PALM SPRINGS, Calif – The POWER lost a back-and-forth affair to the San Diego Force by a final score of 10-6, dropping their record to 9-1.
The POWER gave up a run early in the 1st inning, but quickly rebounded in the bottom of the inning with John Mauldin (University of New Orleans) scoring on a wild pitch.  The Force struck again in the 3rd, putting two runs across to take a 3-1 lead, but the POWER answered right back thanks to a Mauldin solo home run, cutting the lead to 3-2.
The Force added yet another run in the 5th, taking a two-run lead, but the POWER came back yet again, putting up three runs in the 6th, including Mauldin's second solo home run of the game.  Mauldin would end the night going 3-4 with four runs scored.  Taylor Grace (Michigan State) would also double in Ryan Mota (Riverside City College) and Cody Ducote (University of New Orleans) before the inning was over.
The Force came right back, tying the game in the 7th inning and putting across three insurance runs in the 8th.  The POWER staged a small comeback in the bottom of the 8th thanks to a Grace RBI single.  Grace would go 4-5 on the night with three RBIs.  The Force would score once more in the 9th and hold the POWER scoreless in the bottom of the inning to secure their 10-6 victory.  Both teams combined for 27 hits on the night.
POWER starting pitcher Steven Baker (Chico State University) threw five innings, giving up four runs on six hits in the no-decision. Force reliever Brent Elgin gets the win, throwing 2.1 innings and striking out four.
The POWER have an off day on Thursday but return to SCCBL play on Friday, hosting the Inland Valley Bucs for a three-game series at Palm Springs Stadium.
POWER Box Score/Stats
Photo credit to Clinton Cole