Palm Springs, CA (July 23, 2010) – Setting a single-season run record the Palm Springs Power delivered an onslaught of 16  runs to the L.A. Rhinos, winning the game 16-5 .  Still steaming from their lack of offense in their last two games the Power decided to take out their frustrations on the visiting Rhinos. The Power began the game giving up two runs in the first on a throwing error and just as it began to look like early errors would continue to plague the Power they came back with a vengeance. The Power hammered out 20 hits in their victory over their opponents, and by the looks of Power players it was a great way to end the season with a bang.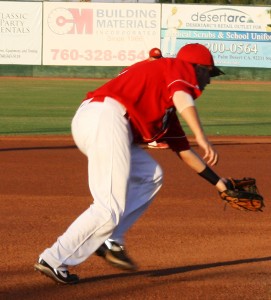 Leading the charge for the Power were right fielder Keenyn Walker (Central AZ) who was 3-4 on the night scoring twice, and second baseman Zach Haley who also scored twice and finished the night 3-5 with 3 RBIs.
 "Coach (Tom) Gamboa and Coach (Mike) Schultz have really improved my swing this summer and lately I've just been picking up the ball better" said Haley.
 Haley finishes his Power season hitting well above .330 and was a huge factor in the Power victory and the season's overall success.
The Power finish the regular season with the franchise records for winning percentage .894 and after tonight, the record for the number of runs scored in a single inning, with fifteen.
"It was a great and fitting end to good season full of winning," said Power Owner and General Manager Andrew Starke. " I'm proud of our guys and the way they bounced back tonight. It was a great year."
 Tomorrow night marks the end of the SCCBL season. Gates to Palm Springs Stadium open at 5:00 for the Home-Run Derby which is slated to start at 6:05. Also, come watch as the SCCBL All-Stars, along with your Power All-Stars take on the best that San Diego has to offer. Tomorrow's game is at Palm Springs Stadium at 7:05pm.