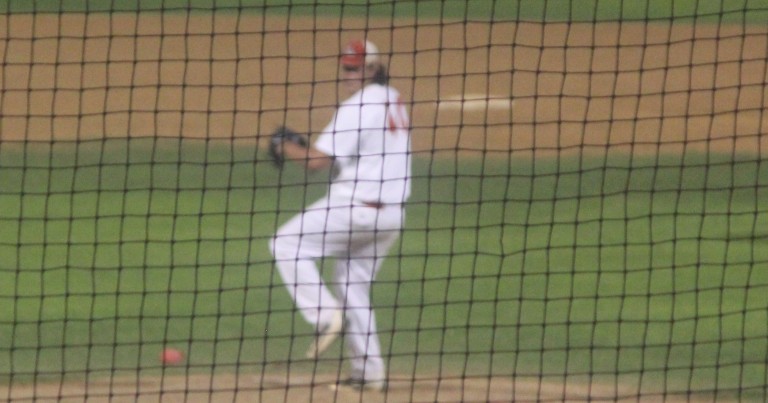 PALM SPRINGS, Calif.- After game two of the four game set went to the POWER, the series would be tied at a game a piece.
That set the stage for C.J. Broussard (Cal State LA) to put the POWER ahead in the series. He was faced by right-handed pitcher Brad Moreno.
Palm Springs scored first in the bottom of the second inning. Andrew Brown (San Diego State), would place a ball just inside the foul line for a stand-up triple. Moreno would walk Lucero to put men on the corners. After that, back-to-back RBI singles from Kobie Foppe (South Mt.) and Cole Danielson (COD), put the POWER ahead 2-0.
San Diego would not let that lead last long, as the pinch hitter Joe Deroche-Duffen and Alex Sawlson would put themselves on base with a pair of singles. Sam Thorne took a walk to load the bases and Mark McGinnity laceed a two-RBI double to the right field corner to tie things up. Alex Strizak (Loyola Marymount) relieved Broussard, but not before Andy Smith would hit a sacrifice fly to score Sam Thorne, making it a 3-2 game after five.
Kobie Foppe scored Willie Bourbon on a sacrifice fly in the sixth, tying the game up 3-3. Palm Springs would keep the momentum going into the seventh inning. With Moreno still pitching for the Force, Cody Ducote (LSU) would get on base with a double. Cameron Saylor came out of the bullpen and would intentionally walk Willie Bourbon (Northwestern) to see Andrew Brown. That turned out to be a fatal error. Brown hit another two-RBI double, making the score 5-3.
Brown, who went three-for-four with two RBI and scored a run, was playing with a chip on his shoulder. He called the extra inning loss yesterday "a shocker." He went on to say that "we left San Diego with a sour taste in our mouths." The POWER used the loss as motivation and snapped a three game losing streak.
Jumpei Akanuma (COD) would get the win and Gabe Gentner (Cal State LA) would get the save for an incredible ninth inning effort.
The Series finale is scheduled for Wednesday night at 7:05. General admission is just $1 brought to you by Jack-in-the-box.