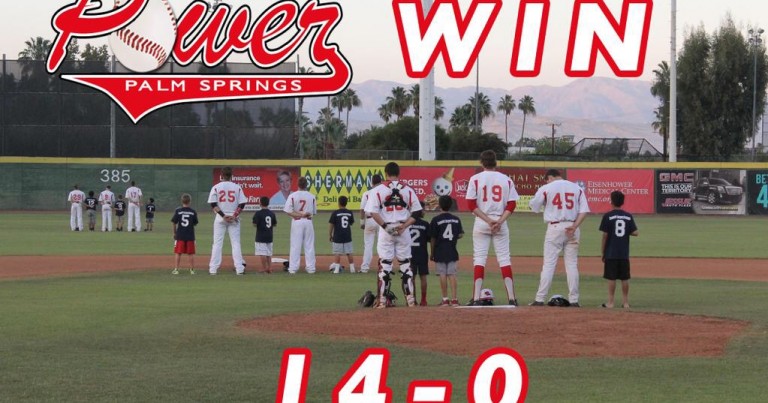 By Ryan Thies
PALM SPRINGS, Calif. – The Palm Springs POWER took the second game of the series against the Fresno Valley Bears to take the two-game sweep by a score of 14-0.
The scoring got started on an RBI groundout by Daniel Sander where Miles Bice came in to score and quickly after that Harry Shipley came in to score on a wild pitch to take a 2-0 lead after one inning.
The following inning the power broke things open, first with an RBI double by catcher Andrew Paz and then he came around to score on back-to-back wild pitches. The POWER took a 6-0 lead with a 2-RBI single off the bat of Daniel Sander.
Keaton Cenatiempo started on the hill for Palm Springs throwing six innings of shutout ball. The POWER starter earned the win and also notched 5 strikeouts in the outing.
The home team would increase the lead in the 6th inning after an RBI double by Tyler Finkler in his first at-bat of the season. Miles Bice scored soon after on a wild pitch to make the score 8-0. Erik Maki earned an RBI in that same inning on a groundout to the first baseman that plated Tyler Finkler.
The scoring would continue for the POWER when Ian McLoughlin would come around to score on a fielder's choice off the bat of Court Iorg. Ryan Raslowsky scored the final run of the inning on an RBI single by Andrew Paz, his second RBI of the game.
The POWER added two more runs in the seventh when Jonathan Serven and Ryan Raslowsky recorded back-to-back RBI singles to make the score 13-0. One more run was added in the bottom of the eighth on a sacrifice fly from Tyler Finkler, making it a two RBI night.
The shutout would remain intact after relief appearances by Jonathan Hernandez and Chad Clark who would each throw a complete inning. Both relievers threw perfect innings where Hernandez dished out two strikeouts and Clark had three.
Wednesday night's win now makes it four in a row for the POWER as they improve their record to 4-1. They will be in action on Friday night against Southern Nevada at 7:05 P.M. at Palm Springs Stadium.