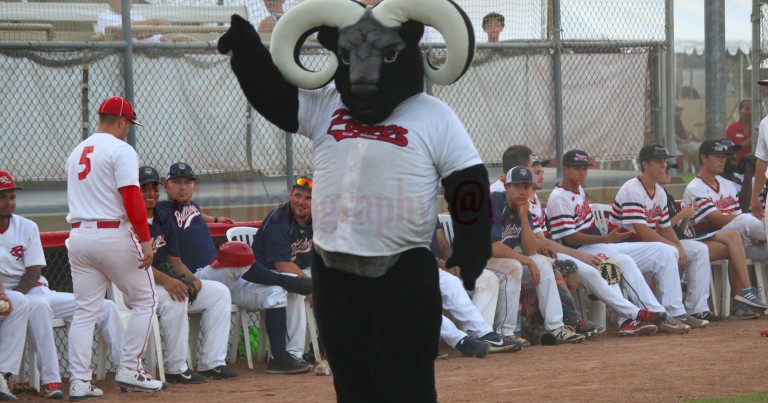 By: Evan Conn
Palm Springs, CALIF. – POWER bats came alive early and the bullpen was spotless for a second straight night as the POWER defeated non-conference opponent East LA Dodgers 11-1 Sunday Night. The POWER plated four in the second inning with five consecutive hits, then went on to score six more over the next two innings for safe measure to seal the victory. Jack Carberry (Western Illinois) started with four shut-out innings before the bullpen locked things down as the POWER move to 14-1 with SCCBL play picking up this week.
The POWER got contributions from up and down the lineup Sunday, with each player in the starting lineup collecting at least one hit.  Ben Nisle (Purdue) broke out with his biggest game in his brief time with the POWER.  He went 2-5, including an RBI double, and a run scored.  Kevin Morden (UCLA) got it done with both the bat and with the glove, making several sparking plays in the field.  In his second game with the POWER, the Bruin infielder went 2-3 with a a two-RBI single, as well as a walk in the seventh where he came around to score on three straight wild pitches by the Dodgers pitcher.  The POWER have now scored double-digit run totals in eight of their 14 games at Palm Spring Stadium.
The starter Carberry went four innings before manager Casey Dill had a quartet of arms finish it.  The Leatherneck only allowed two Dodgers to reach on hits, while striking out two.  Josh Norman (Dawson CC), Chad Boudreaux (East Texas Baptist University) and Cameron Sepede (UNLV) threw four more scoreless following Carberry, only letting three Dodger base-runners reach, all via the walk.  Chris Dunn (College of Southern Nevada) usually an outfielder, got the call in the ninth. Dunn gave up the lone run on the evening on one hit and two walks, but he did get all three outs by punchout. True-POWER relievers have gone ten straight innings without allowing a run.
The POWER are off Monday before getting back into conference play on Tuesday against the SoCal Bombers.  Gates open at 6 PM for $2 Tuesday at Palm Springs Stadium, with first pitch set for 7:05 PM.