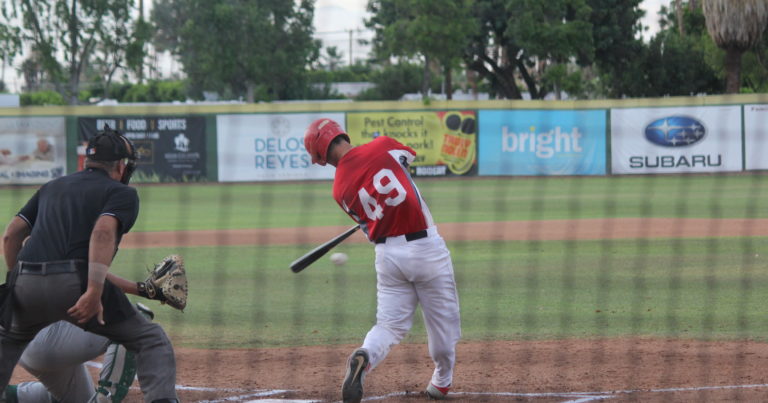 Written by Kade Overton, Power Broadcaster
Palm Spring CALIF. ~ In a back and fourth battle against the California Jays, the Palm Springs Power came out on top Victorious in extra innings 10-9. The Jays were second in the league before the game and the Power were at the top of the league. It was a very competitive battle all throughout the night.
In the second inning of the game pitcher, Jesus Chaves struggled early and gave up 5 straight hits surrendering a couple of runs.  The Power battled back and took the lead in the bottom of the fifth and led 5-4. The Power had the lead in going into the 8th inning, but things seemed to fall apart.
After a couple of walks and a couple of hits the Jays had the bases loaded. The usual closer, Darin May came into the game to try to get out of things, but it was helpless. The Jays ended up scoring 5 runs to lead 9-4. Everything seemed doomed, but the Power battled back again, scoring 2 in the bottom of the 8th.
The Power needed 2 runs to send the game into extra innings. With 2 runners on base, Josh Prizina hit a single to centerfield, and the Jays centerfielder through the ball into the third base dugout and allowed the Power to tie the game and send it to extra innings.
In the bottom of the tenth, Austin Bull started the inning by getting walked. Then after 2 outs and a stolen base, Brett Young was up. Brett Young was 4-5 with 4 singles on the day. A single there would've won the game. The Jays decide to walk Young and make Blake Daniels hit. Daniels hit a walk off single in the 10th to win the game and keep the streak alive.
It was a very competitive game and there will be two more games later this weekend. Tomorrow night is Superhero night at the ballpark, along with $2 Kids Night. Come out and watch the Power try to go 25-0.
Fans can keep up with the Power by following us on Facebook, Twitter, and Instagram. All Games are broadcasted on Facebook Live.