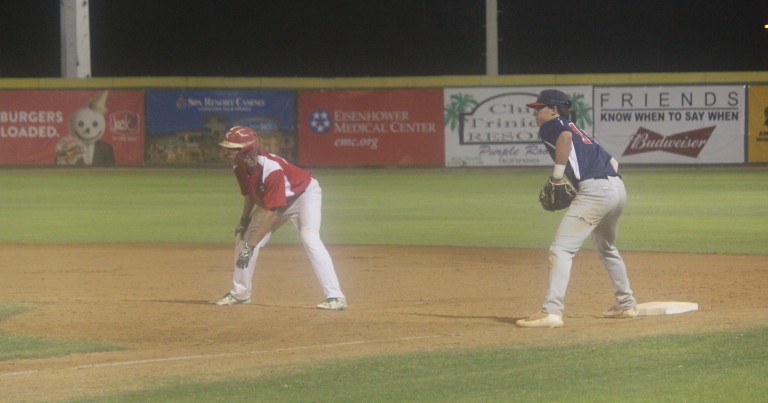 PALM SPRINGS, Calif. – After a tough throwing error that led to a go-ahead run for Southern Nevada in the 5th inning, Baylor third baseman West Tunnell pounded his chest to acknowledge his mistake and promptly took the game in his own hands in the bottom half of the frame, by drawing a walk and stealing two bases that led to a game-tying run.
Tunnell would triple and score back in the second inning to respond from being down 1-0, then singled and stole a base in the 6th. Tunnell would finish the game 2-for-3 with three stolen bases and a walk.
Michigan State outfielder Taylor Grace came up with the difference maker in the 6th, when he drove in John Mauldin for his 18th RBI on the year. Mauldin put himself in scoring position the play before, by using his phenomenal speed to turn a single into a double.
Riverside City College righty Matt Acosta took the hill for his fourth start in 2016 and hurled five innings of four-hit ball, striking out nine and allowing two runs in the no decision.
Alex Strizak tossed two innings striking out two, while Gabe Gentner struck out the side in the 9th to slam the door shut on Southern Nevada and the series, taking two of three games. Strizak would improve to 2-0 on the year while Gentner was awarded his team-leading 4th save of the season.
The POWER have the day off tomorrow but will return to action on Friday for a 7:05 bout with the Arroyo Seco Saints before continuing conference play on Saturday against the SoCal Bombers.