PALM SPRINGS, CA — The Palm Springs POWER will be hosting Timothy Bradley Jr. Night at Palm Springs Stadium on Friday, June 29 against the San Luis Obispo Rattlers.
Timothy "Desert Storm" Bradley Jr. is from Palm Springs and has a perfect 29-0 career record. He currently is the World Boxing Organization Welterweight and Light Welterweight Champion and is the former two-time World Boxing Council Light Welterweight Champion.
The POWER will be honoring our hometown champion following his defeat of Manny Pacquiao for the WBO Welterweight title.
"We're excited to recognize our Palm Springs Champion and hope that everyone comes out to show their support," POWER General Manager Andrew Starke said.
Bradley will be throwing out the first pitch prior to the start of the game.
Proceeds from all general admission tickets, along with raffles and silent auctions, will be donated to the Turnaround Student of the Year Scholarship Fund at Nellie Coffman Middle School. The fund is a part of the Pinnacle Fund, which serves all of the Palm Springs Unified School District.
Gates will open at 6:00 p.m. with first pitch at 7:05 p.m.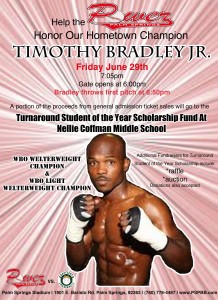 *Click the flyer above to enlarge