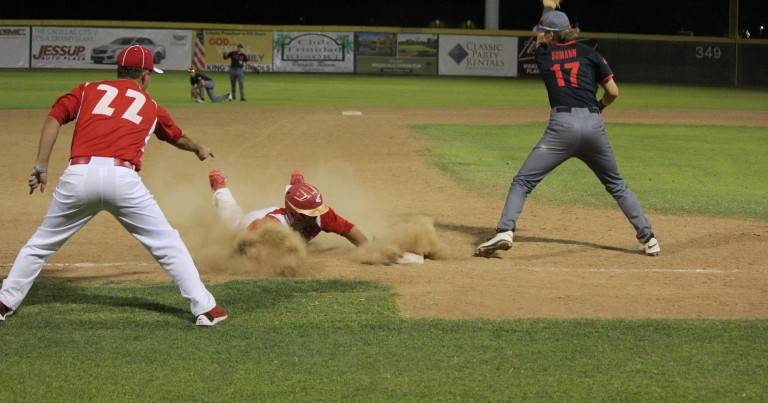 By Mark Cochran
PALM SPRINGS, Calif. – The Palm Springs POWER defeated the SoCal Catch 9-6 to complete a three-game sweep to start their 2017 SCCBL campaign.
For the first time this season the POWER were faced with a close game late. Their lead was cut from 7-2 in fifth inning to 7-6 in the eighth. That didn't phase Palm Springs as they scored two more runs in the bottom of the eighth to put the game out of reach for the Catch.
"Good teams win close ballgames," said POWER manager Casey Dill. "And when we were in situations to execute when the game was close, the guys that were in the game executed and the guys that came off the bench executed. So we couldn't have asked for more playing in close situations tonight."
The POWER bats have exploded for an average of over eight runs per game through the first three games of the season.
They combined for 35 hits in those three games with immediate impact from lead-off man Skyler Hunter (Purdue University). Hunter went 4-5 with two runs scored in his best performance thus far.
Another impressive performance came from newcomer Hayden Schilling (University of New Mexico) who went 3-4 with an RBI and a run scored. Schilling joined the team this afternoon after driving in from Phoenix. The University of New Mexico player looked very comfortable at the plate and at second base and will probably be a very valuable utility player.
"During the season I'll play short and second," said Schilling. "I've played first base a couple times. Honestly, as long as I can hit I'm pretty good with anything."
The POWER will return to action Tuesday night against the San Francisco Seals at 7:05 p.m. from Palm Springs Stadium.