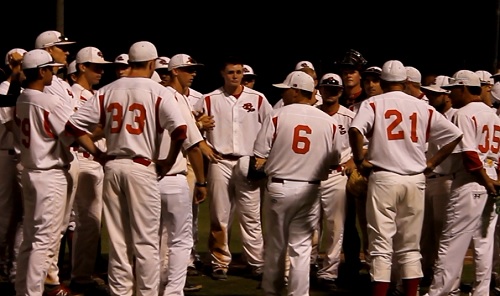 By Kurt Martin
PALM SPRINGS, CA – The POWER came into Sunday's slate with a perfect 7-0 record to begin the year and looking for their eighth win in as many games. Starter Morgan Earman held up his end of the bargain, tossing six shutout innings while scattering four hits and punching out six men. "My night was primarily focused on not issuing as walks in this outing" said the right-hander. "In my last outing I had a lot of walks and that really shortened my outing". As a matter of fact, when Earman left the game after six innings, the POWER led 5-0. The POWER would later tag on two more runs to extend their lead to 7-0 where they had the shutout going into the 9th inning. West Tunnell, pitching in his first game this season, came into the game to do what he could do to preserve the shutout. The first three men to greet Tunnell all reached base via a single, hit batsman and walk. Tunnell then settled down a bit to retire the next two men, but the Bulldogs were determined to not go down without a fight. After getting the last two outs, the next three Bulldogs reached base plating three runs for the team which chased West Tunnell from the game. Trying to find an answer to kill the Bulldogs' rally, manager Harry Gurley turned back to his bullpen and entrusted Doug Finley to finish off the game. Finley rewarded the skipper by getting the next hitter to pop up weakly to Hunter Bening thus ending the game.
The POWER didn't score as many runs as they are used to, but it was enough to give Earman a substantial enough lead for him to cruise to his first victory of the year. Nate Pollock and Brandon Gomez led the eleven hit charge as each man had a big double in the 3rd inning that gave the POWER a 2-0 lead. Nick King also caused havoc on the bases stealing four bases.
The POWER return to action on Tuesday to begin division play against the Inland Valley Pirates. BYU and Opening Night starter Hayden Rogers will make his second start of the season. First pitch is scheduled for 7:05. It is also $1 beer night at Palm Springs Stadium, which means all draft Bud and Bud Lights are just $1 all game.
Tonight's Box Score: 6-8 (POWER vs. Bulldogs)