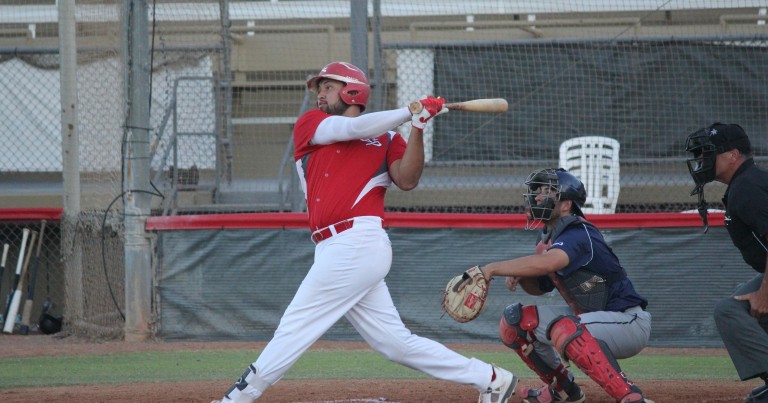 By Alex Gratys
PALM SPRINGS, Calif. – The POWER began conference play this evening and took game one of this three-game weekend series against the SCCBL newcomers, the Riverside Bulldogs, 6-2.
Jordan Dreibelbis (Harris-Stowe State University) took the mound in his second start of the season, tossing another seven innings of one-run ball for his second straight quality start for the POWER. Dreibelbis hurled five strikeouts and only issued one walk as his command was on point in this contest.
Ryan Mota (Riverside City College) got things started with a bang in the first inning following a two-run shot to left field off of Bulldogs starter Ryan Daugherty. It was Mota's second home run of the year in just six games, matching his total from last season with the POWER.
"I think we just got stronger since last year," said Mota in regards to the team's surge of power this early. "We hit like three or four homers as a team last year, we definitely have more power in our lineup with guys like (Hayden) Schilling and (Tyler) Pritchard stepping up. We want to hit more of them for sure." Mota went 2-4 with the big home run, a double and a run scored.
The Bulldogs would make things close in the seventh as they were able to cut the 3-1 deficit to just one run. Riverside loaded up the bases on three singles and Jordan Dreibelbis forced a ground out by Kyle Kabeary to end the threat. Palm Springs came up huge in the bottom half, plating three runs and pushing the lead to four runs following an RBI single from Hayden Schilling (University of New Mexico) and a sacrifice play from Taylor Meilleur (St. Mary's) to make the score 6-2.
POWER relievers Felix Minjarez (University of Redlands) and Bryan Menendez (UNLV) came on to relieve Dreibelbis and tossed back-to-back 1-2-3 innings to earn the victory for Palm Springs, who advance to 6-0 on the year and 1-0 in conference play.
The POWER resume action tomorrow evening against the Bulldogs in game two of this three-game set, with first pitch taking place at 7:05 PM. Saturday is Kid's Day at Palm Springs Stadium, where all kids 12 and under get in for two dollars!
POWER Stats
Photo credit to Clinton Cole