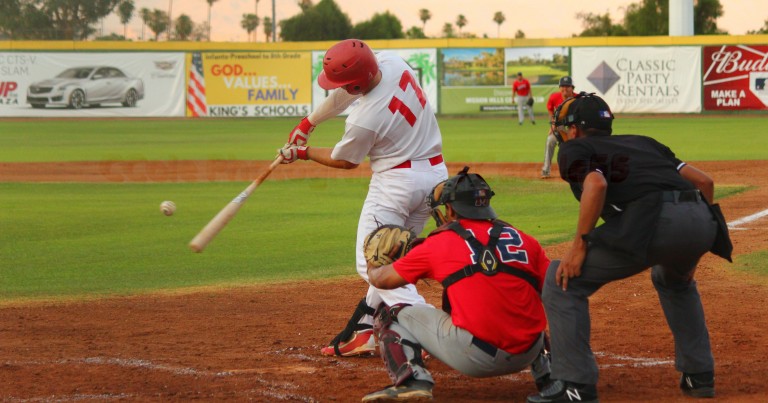 By Alex Gratys
PALM SPRINGS, Calif. – The POWER have put on a display of strength the last few games and that didn't stop tonight as San Diego State outfielder Justin Wylie blasted a two-run homer, en route to a 12-4 victory over the Riverside Bulldogs on Wednesday night.
In the finale of this two-game series, Chico State University righty Steven Baker got into some early trouble after some rough defense lead to two unearned runs in the first inning. The POWER would take the lead in the second after back-to-back hits from Cody Ducote (University of New Orleans) and Skyler Hunter (Purdue) set up Hunter Stratton (San Diego State) for a big two-run single to put Palm Springs up 3-2 and would not relinquish the lead.
"I was just sitting back trying to drive the ball hard and put us in a better position to win," Stratton said about his approach at the plate. "I was just feeling really comfortable out there today and it showed." Stratton went 3-for-5 at the dish, driving in three runs and scoring a run to go along with a stolen base.
The offense wouldn't stop there as the POWER would plate nine more runs over the rest of the contest, including a mammoth two-run blast off of the left field scoreboard by San Diego State outfielder Justin Wylie.
"I just got a fastball over the plate I thought I could do some damage with and fortunately I did," Wylie said about his home run swing. Wylie finished the night 3-for-6 with a couple of singles and a run scored to go along with his first homer of the year.
Steven Baker went three innings and was lifted for a relief corps of Bayley Chesterton (Riverside City College), Jacob Mesa (College of the Desert), Andrew O'Brien (Texas Wesleyan) and Bryan Menendez (UNLV) who tossed a combined six innings and only allowed six hits while striking out four.
The POWER went 5-0 in their season series against the Riverside Bulldogs following their 12-4 victory this evening. They advance to 9-1 in conference with their next opponent being the SoCal Bombers, coming to town on Friday for a weekend series. First pitch is at 7:05 at Palm Springs Stadium, get tickets now!
POWER Stats
Photo Credit: Clinton Cole